Image

Image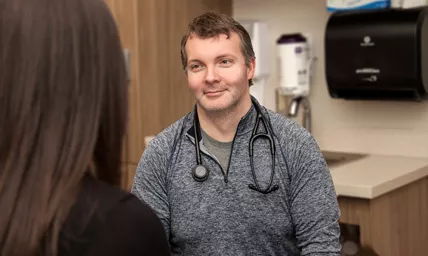 Emergency & Hospital Care
Overview
Whether it's for an emergency or planned procedure, our staff wants to ensure that your stay at a Ballad Health hospital is as comfortable as possible.
We understand that visiting a hospital can be a stressful experience, which is why our hospital teams are committed to create a positive, healing environment for patients and their families.
When a loved one is placed in the care of a Ballad Health hospitalist, physician or surgeon, you can trust that they'll be in good hands.
Have an emergency? Call 911.
Don't wait. Call 911 right away if you or someone else needs immediate medical attention.
Conditions We Treat
Accidents, injuries or other trauma

Aneurism

Bleeding that won't stop

Blood disorders

Breathing trouble

Broken bones

Burns (moderate to severe)

Chest pain or pressure that lasts more than a few minutes

Choking

Heart attack

Heat exhaustion

Hypothermia

Infections

Neonatal conditions

Passing out

Poisoning

Serious illnesses

Severe allergic reactions

Trouble speaking

Urological conditions
What to expect
Our team is here to help
We're dedicated to always offer an attentive, compassionate environment for all patients and their families or friends.
Our hospital staff is here to support you on your journey to feel well again. Ballad Health is driven to provide high-quality healthcare for all people in the Appalachian Highlands.
22 hospitals all throughout communities in the Appalachian Highlands
Highly skilled hospitalists who are here to get you the care you need
Extended visitation hours so you always have time to see your loved ones
Spiritual support in the form of professional hospital chaplains
Interpreter services – offered free of charge – for those who need them
Amenities for patients and visitors including food, gift shops and pharmacies
If you've recently scheduled a surgery at a Ballad Health hospital, you can learn more about how to prepare for your procedure and what to expect from recovery.
Emergency rooms and trauma centers
Ballad Health is ready to assist and act quickly in a medical emergency.
Our emergency departments and trauma centers are staffed by specialized ER doctors and nurses who will get you quality care as quickly as possible.
If you or someone you know if having a medical emergency, call 911 immediately.
Urgent care
If you have a small injury or illness that isn't life-threatening, you can visit a Ballad Health urgent care location. You can also schedule an appointment with our virtual urgent care clinic to connect with a provider from the comfort of your home.
You're more likely to get help much quicker and pay less than you would when visiting an emergency room. You can even schedule your next visit online.