Image

Image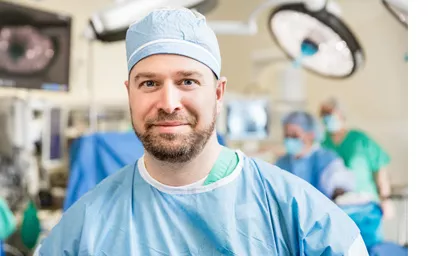 Surgical Services
Overview
You and your family can count on Ballad Health's skilled surgical teams to put your safety and healing first.
Our highly qualified surgeons utilize the latest techniques and innovative technology, including the most advanced robotics-assisted surgery system available.
Your care team will always discuss your options, answer any questions and help you feel comfortable, whether you're staying in one of our hospitals overnight or going home the same day of your procedure.
Cutting edge robotic technology
To better serve the needs of our patients, Ballad Health has invested in innovative technology, advanced surgical techniques and high-skill training programs for our surgeons.
We're proud to offer robotic-assisted surgery for a wide range of patients, including minimally invasive procedures and joint replacements.
Robotic-assisted surgery leads to lower rates of complications or infections, leaves virtually no scars and offers minimal surgical pain for patients. This style of surgery also leads to shorter hospital stays and faster recovery times – letting you get back to your life quicker.
Learn more about robotic-assisted surgery.
Conditions We Treat
Anal fissure

Anal fistula

Aortic aneurysms

Appendicitis

Arthroplasty

Atrial fibrillation

Carpal tunnel

Cervical cancer

Colon polyps

Colorectal polyps

Congenital heart defects

Crohn's disease

Diverticulitis

Endometriosis

Fecal incontinence

Gallstones

Ganglion

Gastroesophageal reflux disease (GERD)

Hand and wrist fracture

Heart bypass

Hemorrhoids

Hernia

Inflammatory bowel disease

Kidney stones

Menorrhagia

Neurological conditions

Pelvic organ prolapse

Prostate cancer

Rectal prolapse

Temporomandibular joint (TMJ)

Tendon repair

Trigger figure

Tumors

Ulcerative colitis

Urinary incontinence

Uterine cancer

Uterine fibroids
What to expect
Inpatient and outpatient surgical services
Choose from a broad range of inpatient and outpatient surgical procedures at Ballad Health.
Depending on your condition, you may work with a surgeon who specializes in treating the:
Back and spine
Bones and joints
Brain
Ear, nose and throat
Eyes
Female sex organs
Hands
Heart and blood vessels
Lungs
Male sex organs
Mouth and face
Urinary tract
Ballad Health also offers a network of surgeons who treat obesity, cancer, pediatric or cosmetic concerns.
Ask your doctor about the type of surgery that best meets your needs.
Minimally invasive surgery – Uses several small incisions, along with a tiny camera and miniature tools
Traditional (open) surgery – Uses a single larger incision
Types of general surgery
Abdominoperineal resection (APR) – Removes the anus, rectum and sigmoid colon
Adrenalectomy – Removes one or both adrenal glands
Breast biopsy – Tests for breast cancer
Cardiac and thoracic surgery – Includes bypass surgery and other chest procedures
Cholecystectomy – Removes the gallbladder
Colectomy or colon resection – Removes all or part of the small intestine
Colon polypectomy – Removes lumps from the large intestine
Gastroenterological surgery – Includes colorectal surgery
Gynecologic surgery – Includes hysterectomy
Lithotripsy – Breaks down kidney stones with shock waves
Liver resection – Removes all or part of the liver
Urologic surgery – Removes prostate cancer
Splenectomy – Removes all or part of the spleen
Before, during and after surgery
You'll work with your primary care doctor, anesthesiologists (doctors who give medicine to prevent pain), nurses and support staff to reach the best possible outcome from your procedure.
You'll also receive the best level of pain management for your condition before, during and after surgery.
Learn how to prepare for your surgery and what to expect from recovery.