Shelia, Cardiac Patient
"I live an abundant and full life thanks to the cardiac care I receive at Ballad Health."
Continual cardiac care keeps heart patient working, enjoying life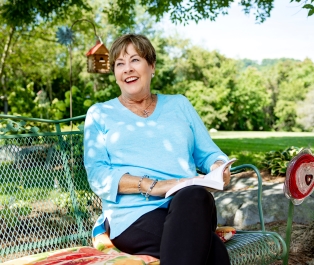 "I know heart disease is a battle I will fight the rest of my life," says Shelia. She lost her father and brother to heart disease, and her younger brother struggles with it now. High blood pressure led to a brain aneurysm that took her mother at age 50. Despite her family's heart history, continual monitoring by Shelia's doctors and cardiac care teams at CVA Heart Institute and Johnson City Medical Center keep her enjoying what she loves – her job as an insurance agent helping clients sign up for Medicare, teaching Sunday School, Christian motivational speaking for women's groups and serving as a lay speaker for the Methodist church.
"I got serious about my own heart health in 2004 when my brother died," says Shelia. "I was so busy with my work as an insurance agent and taking care of other people that I had been ignoring myself."
Her first heart catheterization was in 2008 when her cholesterol began to rise. Then in 2014, at age 60, she began to notice chest pains during routine walks with her husband. A heart catheterization showed that two arteries were 95% and 80% blocked. She immediately had surgery to place two heart stents and begin a journey to fight her family's legacy of heart disease.
In 2018, Dr. Anthony Palazzo performed open heart surgery. Then in 2021, the familiar symptoms returned. "I had done too much at a church event and my arm started hurting and my face felt numb. I knew what that meant," she says. After a heart catheterization she had surgery to place two stents in a single artery.
During Shelia's almost 15-year fight with heart disease, she credits close monitoring by her doctors and health care teams, along with the advanced heart care services they offer, for her ability to live an abundant and full life that includes her work and church involvement.
"I almost lost my life when I had the first stents," she says. "I wouldn't be here without them." I walk the treadmill and take my medicines to try to do my part, but I know this is a battle I will need to fight for the rest of my life. I'm thankful I have these physicians and cardiac team to help me do that."
"They see you as a person first, then as a patient."
One aspect she says she loves about her team of providers is the personal care she's received.
"I just love them all," she says. "They see you as a person first, then as a patient. They're very caring."
Shelia says she and her husband especially appreciated concern for her daughter, who lives in Atlanta. Drs. Anthony Palazzo and Fawwaz Hamati gave them a list of tests she should have because of her family history.
Throughout the many procedures and surgeries she's experienced, Shelia says she's never once been frightened. "The whole cardiac team always reassures me and makes sure I know what they will be doing. And they don't just do a surgery or a procedure then you're done. It's follow-ups. They call and say, 'Are you doing ok?' or 'Do you have any bleeding?' Who wouldn't want people like that in their corner?"
Shelia hears the same story from clients at her work who she helps sign up for Medicare. "People will talk about how much they love these doctors and want to make sure they are included on their Medicare plan." She assures them they are.
"You know, there are some people who think they have to go to a bigger hospital in a bigger city to be treated. When I hear that I think, 'why would you do that when you have such great cardiac care right here?'"
---
Are you at risk for heart disease?
If you're at risk for heart disease or believe continual cardiac care may be right for you, you can learn more about Ballad Health's nationally-recognized cardiovascular services here.