Image

Image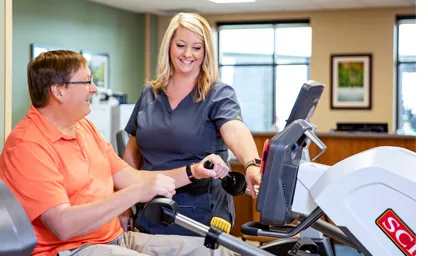 Rehabilitation Services
Overview
If your body isn't working or moving like it should, you might need to see a rehabilitation specialist or therapist.
Ballad Health's network of physical, occupational and speech therapists are here to help you get your body back to 100 percent as quickly as possible. Whether it's a sports-related injury, stroke, heart condition or developmental disorder, our skilled providers can develop a treatment plan that works for you.
Rehabilitation often takes place on an outpatient basis, which means you can live at home and come to us for treatment. However, if you require constant care, you may start with inpatient rehabilitation before transitioning to outpatient care as your condition improves.
Your therapy team will discuss your options so you can decide what will work best for you and your family.
Conditions We Treat
Arthritis

Balance and walking issues

Development and growth disorders

Fibromyalgia

Limb loss

Multiple sclerosis

Parkinson's disease

Spinal cord injury

Sports injuries

Swallowing ability

Traumatic brain injury recovery

Work injuries
What to expect
Rehabilitative services and treatments
If you're living with a chronic condition or recovering from an injury, your doctor may recommend rehabilitative treatment.
Skilled rehabilitation specialists
Depending on your unique needs, your rehabilitation team may include:
Assistive technology professional – Helps you choose and use equipment that makes your life easier and manage your condition
Certified hand therapist – Works to make any part of your arm move better
Certified manual therapist – Uses their hands to gently move muscles or joints, helping them heal
Maitland-trained therapist – Tailors hands-on therapy to your specific symptoms
McKenzie-certified specialist – Teaches you exercises so you can help treat yourself and manage symptoms
Pediatric-certified specialist – Specializes in therapy and rehabilitative care for children
Physiatrist (rehabilitation doctor) – Oversees your rehabilitative treatment
Vestibular-certified therapist – Treats dizziness and trouble balancing