Kris, Double Knee Replacement
"This time last year I didn't think I'd be able to walk another year."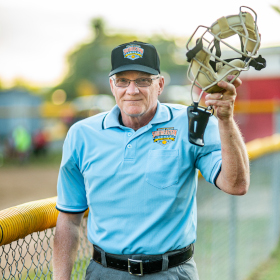 Four years ago, relentless pain in both his knees motivated 50-year-old pharmacist Kris to visit Dr. Todd Hannula to find out how he could get some relief. One possibility the doctor suggested was a series of "rooster comb" injections, a non-surgical treatment that lubricates the joint to help reduce pain. But for needle-phobic Kris, that wasn't an option.
Instead, he preferred a minimally invasive arthroscopic procedure that could be performed while he was asleep. Next, Kris tried wearing offloading knee braces that help lessen pain by taking pressure off of worn joints.
By age 55, Kris still wondered if a wheelchair was in his future.
He knew he didn't want to cope with the pain by using painkillers. As a pharmacist, he was too aware of how opiates can take over a person's life.
Kris decided to have knee replacement surgery for both knees at the same time at Smyth County Community Hospital in Marion, Virginia. "I didn't want to go to Bristol or Johnson City, which is an hour-plus drive, or to Roanoke, which is an hour-and-a-half drive," he says. "Once you get that far away, you lose connection with your medical staff."
He knew Dr. Hannula from church, and he knew much of the doctor's staff from his work at the pharmacy and from officiating high school games, including baseball, softball, football and basketball. So he was comfortable with his care team.
The surgery revealed that Kris' meniscus was completely gone – both knees were bone-on-bone. No wonder he was in pain.
Kris says he gives Dr. Hannula and his staff "an A++" for both his pre- and post-op experiences. And he is especially appreciative of anesthesiologist Dr. Michael Rosenfeld and other Smyth County Community Hospital staff for their attention and caring. "The staff was very empathetic, even about my neuroses of needles," he says.
He pushed hard to regain full mobility.
He'd expected post-op pain would be "pure medieval torture," but said he found it wasn't bad at all.
His work ethic gained him a reputation. "One of my PT people said, 'You are far exceeding everybody I've ever had who has had this surgery,'" Kris recalls.
Thanks to Dr. Hannula and the staff at Smyth County Community Hospital, he can now officiate pain-free for years to come!
Why did he work himself so hard? Kris says he had a goal – to recover from his October surgery strong enough to officiate at the first softball game in March. He did it, too, officiating on his new knees six months after surgery for the season opener of the junior varsity softball game between Marion High and Virginia High.
He laughs when he tells that story. "This time last year I didn't think I'd be able to walk another year," he says. Thanks to Dr. Hannula and the staff at Smyth County Community Hospital, he can now officiate pain-free for years to come!
---
Is knee replacement for you?
If you think surgery might help keep you in the game – like it did for Kris – learn more about total knee replacement here.