Matt, Shoulder Replacement Patient
"I finally got to the point where I couldn't take the lack of sleep and not thinking clearly. I just couldn't take the pain any longer."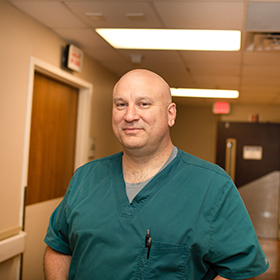 I'm 48. I didn't want to have replacement surgery this young, but I couldn't deal with the pain any longer.
I'd been having shoulder pain for years. It came from wear and tear, doing things like lifting weights and helping people move into houses.
I've done roofing on mission trips, carrying shingles up ladders. Even at my job doing CT scans for Johnson City Medical Center, I lift and move patients.
The pain was bone on bone. I couldn't sleep except for two or three hours a night.

Also, my arm would get stuck, raised up or out to the side. When I tried to get it back down by my side, I would be in tears.
I wore Lidocaine patches to go to work. My primary care physician prescribed me Tramadol, a painkiller, and at one point, I was taking Lortab at night.
I've been in health care all my life. I've seen how people can get hooked. I didn't want to get addicted to painkillers.
I also didn't want shoulder replacement surgery at this age. My thinking was that if I had it done now, I might have to have it done again when I'm in my 60s or 70s.
I finally got to the point where I couldn't take the lack of sleep and not thinking clearly.
I just couldn't take the pain any longer.
I first went to Dr. Charles Barnes at Appalachian Orthopaedic Associates in Johnson City. He recommended Dr. Larry Waldrop II, who is in the same practice. I've been doing X-rays and CTs since 1989.
You see a ton of knee and hip replacements, but you don't see that many shoulder replacements. Dr. Barnes recommended Dr. Waldrop because there was a chance a reverse replacement was needed. Dr. Waldrop has had specialty training at University of Florida's Shoulder and Elbow Program.
I had the surgery at Johnson City Medical Center. My CT scan showed that my rotator cuff was okay so I didn't need a reverse replacement. Instead, I had a smaller replacement that didn't go as far down in my humerus, which left more bone to anchor another replacement if I need it.
Dr. Waldrop said if I'm willing to take care of it, my replacement could last forever, which eased my mind about having to have another one in the future.
Dr. Waldrop has been great – his technical skill, his personality, his bedside manner, and his attentiveness to what I say. He's always listened.
The pre-op nurse and the anesthesiologist were really, really good as were the day and night nurses after the surgery. If I pushed my call button, they were always there.
It takes a while to recover. I had the surgery on May 3rd and returned to work on July 5th, although I can't lift patients right now. I still have a limited range of motion, but that will come.
I am doing physical therapy at Appalachian Orthopaedic Associates, which is convenient for me. It's right across from Johnson City Medical Center so I can go for PT before work.
Also, if there's a question, the PT guy can walk up the steps and ask Dr. Waldrop since it's all in the same practice. I started doing PT twice a week, and now it's just once weekly. I rehab at my home in Elizabethton (Tennessee), too, doing exercises they gave me.
What I'm most excited about is being pain-free. If I could do anything differently I wish I had done the surgery earlier.
Finally, after all these years, pain is no longer in control of what I want to do!
---
Is shoulder replacement for you?
If you think surgery might help you get moving again – like it did for Matt – learn more about shoulder surgery at Ballad Health.