Academics, Education & Residency Programs at Ballad Health

Ballad Health is training and developing the next generation of innovators in healthcare.
We're committed to fostering compassionate curiosity in medical science by working with the brightest and most promising students, residents and graduates in our region.
The future of medical care starts here.
Residency programs
Ballad Health is proud to offer advanced training in a diverse array of health professions. The training you'll receive at Ballad Health combines the best of large, multi-disciplinary medical centers with rural- and community-based medical hospitals and clinics.
Our residency training provides the spectrum of care that modern medical professions require with all the beauty of the Appalachian Highlands.
Each of our programs is based on the latest in medical care and offer access to advanced research, technology and treatments.

Residents watching a demonstration during an Advanced Trauma Life Support course
Ballad Health sponsors residency programs in a variety of specialties, including:
Family medicine
Internal medicine
Pharmacy
Dentistry
Learn more about our medical, pharmacy and dental residency programs.
Partnership with East Tennessee State University
Ballad Health is also proud to partner with East Tennessee State University (ETSU). This partnership combines the academic and research strength of ETSU's Quillen College of Medicine residency programs with the state-of-the-art clinical learning environment of Ballad Health's hospitals. ETSU offers a variety of residency programs, including:
Family medicine
Internal medicine
Obstetrics/Gynecology
Orthopedics
Pathology
Pediatrics
Psychiatry
Surgery
ETSU also offers fellowship programs in:
Addiction medicine
Cardiology
Gastroenterology
Pulmonary/Critical care
Infectious disease
Learn more about ETSU's residency/fellowship programs.
Student programs at Ballad Health
We're excited to work with driven, caring students who are interested in making a difference in their communities throughout Northeast Tennessee and Southwest Virginia.
Ballad Health's educators have developed programs that encourage discovery and offer the latest advances in medical treatments. Our facilities are distinguished by their clinical programs that allow scientists and physicians to work together to bring new modalities to our patients safely and quickly.
Ballad Health sets a high standard for excellence for our team members, who are dedicated to their roles as leaders, mentors and educators.
Medical students
We serve as clinical rotation sites for medical students in their third- and fourth-year clerkships. We are honored to be able to provide these clerkship opportunities in partnership with several regional academic partners, including:
East Tennessee State University (ETSU)
Lincoln Memorial University (LMU)
Edward Via College of Osteopathic Medicine (VCOM)
Kentucky College of Osteopathic Medicine (KYCOM)
Advanced practice provider programs
Ballad Health is proud to offer diverse experiences for advanced practice provider (APP) students to gain clinical skills necessary to practice as nurse practitioners and physician assistants.
APP clinical rotations
All students currently enrolled in any APP educational program may request to join Ballad Health for their elective clinical rotations. Each year, over 400 APP students participate in clinical rotations throughout our healthcare system in both inpatient and outpatient settings.
Ballad Health is affiliated with over a dozen programs throughout the Appalachian Highlands. All students interested in rotating must attend a program that has a current affiliation agreement in place with Ballad Health.
If you're interested in clinical rotations, please contact your APP program clinical coordinator for details.
Teaching hospitals
Ballad Health's teaching hospitals bring together medical education, research and patient care in a unique environment where future generations of doctors, nurses and other health professionals are given the experience needed to create strong foundations for the rest of their careers.
Our teaching hospitals include:
Bristol Regional Medical Center (Bristol, TN)
Holston Valley Medical Center (Kingsport, TN)
Johnson City Medical Center (Johnson City, TN)
Johnston Memorial Hospital (Abingdon, VA)
Norton Community Hospital (Norton, VA)
Audition rotations for residency programs
Students in their final year of medical school can apply for audition rotations in our teaching hospitals either through the residencies Ballad Health sponsors or through ETSU's programs. These rotations are available to students both inside and outside the Appalachian Highlands.
Audition rotations are a great way to "audition" for a residency position at one of our hospitals. We encourage medical students to apply for audition rotations as it helps them stand out from other candidates while learning about the program they're considering.
Medical library
Ballad Health's medical library staff assist all individuals – including physicians, nurses, allied health professionals, students, patients and community members – with their medical information needs. This can include any literature searches or full-text article retrieval.
You can contact our library staff at medicallibrary@balladhealth.org to learn more.
Programs for high school students
Ballad Health provides opportunities for young minds to learn and develop a passion for their career choice.
We offer a variety of programs for high school students in the Appalachian Highlands to learn more about health careers and build skills that will help them pursue them.
These programs work to increase awareness of what careers are available in healthcare with the aim of expanding the workforce and cultivating diversity in our region. We provide practical information to assist students in making informed decisions about their potential future in medicine.
Observation programs
High school students and recent graduates who are interested in pursuing a career in the healthcare field can take part in our observation and shadowing program.
An average of 200 students are shadowing in our facilities each year.
Ballad Health's observation program allows students the opportunity to shadow a healthcare professional to gain awareness of the academic, technical and personal skills required in the healthcare field.
Continuing medical education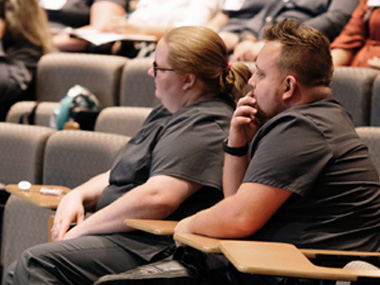 We also provide a range of continuing medical education opportunities for our clinical staff to help them develop their career, whether it's additional pay through certification or financial assistance for additional education opportunities.
Ballad Health is committed to education in both your training years and beyond. We provide a wide range of continuing medical education (CME) opportunities for physicians, providers and clinical staff.
Choosing a career in healthcare leads to a life of continued learning. Whether you're developing educational content for medical professionals and looking to offer CME, or you're a healthcare professional wanting to further your own education, Ballad Health has you covered.
Contact our team
If you're interested in learning more about any of our academic programs, you can email us at academics@balladhealth.org and a member of our team will reach out as soon as possible.