Anthony Keck
Executive Vice President for System Innovation and Chief Population Health Officer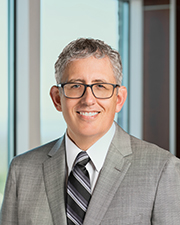 Anthony Keck is the Executive Vice President for System Innovation and Chief Population Health Officer at Ballad Health. In his current role, he is responsible for strategy, analytics, and value-based services; marketing and communications; government affairs; the Ballad Health Innovation Center; the Ballad Health Foundation; and the system's new department of community health programs.
Before joining Ballad Health, Keck served as the director of Health and Human Services for South Carolina during the first term of Governor Nikki R. Haley. He also served three years in the administration of Louisiana Governor Bobby Jindal where he had responsibility for the public health and behavioral health response to two hurricanes, the H1N1 influenza pandemic, and the Deepwater Horizon oil spill. Prior to his government service, he worked for diverse organizations such as Johnson & Johnson, Ochsner Clinic New Orleans, and St. Thomas Health Services, a community clinic.
Keck was active in establishing the Louisiana Health Care Quality Forum after Hurricane Katrina, served on the Board of the National Association of Medicaid Directors, the Institute of Medicine's Committee on Governance and Financing of Graduate Medical Education, and the Executive Committee of the National Academy for State Health Policy. He is currently chair of the board for the Virginia Center for Health Innovation and has served on the board of the Virginia Hospital and Healthcare Association and the Kingsport Tennessee Chamber of Commerce.