Internal Medicine Residency Leadership – Abingdon
Johnston Memorial Hospital
Read about our program leadership below.
Message from our program director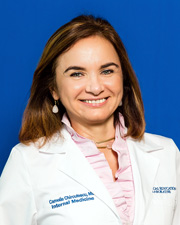 Dr. Camelia Chirculescu
Welcome! We are excited about your interest in the Johnston Memorial Hospital Internal Medicine Residency Program. We're proud to have all the elements of an internal medicine training program delivered in the setting of a friendly, rural Appalachian community located in Abingdon, Virginia. Our community hospital is a beautiful, award-winning facility that has endeavored to create a competent and independent internal medicine physicians.
Johnston Memorial is part of Ballad Health, a 21 hospital integrated healthcare system serving 29 counties in our region. Being part this accountable care organization has allowed for increased opportunities for our residents in regard to rotation experiences, specialist access, research support, and increased funding for residency and medical education.
A key to an excellent training program is the residents and faculty who form it. We are fortunate to have a diverse and cohesive group of talented residents who are supportive of one another. We also have dedicated faculty who love to teach, get to know you personally, and go out of their way to ensure the residents' success. Our program embraces the culture of mentorship, collaboration and camaraderie.
We are committed to training residents who can excel in practice anywhere, but are hopeful they will remain in our region to practice primary care or hospital medicine! Here, you will be trained to become a lifelong learner, and we'll enable you to provide evidence-based care to your patients no matter their degree of health. Our residents work as a team to bring advanced technology to provide the highest-quality of care for patients in a zero-harm environment.
The lifestyle here has been a draw for our residents. There are great restaurants, unique local shops and farmers market, and outdoor activities that include water sports, hiking on the nearby Appalachian Trail or state parks, and walking or biking the Virginia Creeper Trail which is a 34-mile rails-to-trails path starting in downtown Abingdon. Easy access to larger cities is also feasible with Bristol, Kingsport and Johnson City, Tennessee, and Asheville, North Carolina, both close by. Tri-Cities Airport is also only a 30-minute drive away.
The internal medicine residency program is supportive, challenging, flexible, innovative and responsive to the needs of the resident physician. This is why I chose to join this program as program director after a decade as a teaching faculty for a university based residency program in northeast Tennessee. I have a passion for educating our future internal medicine physicians and instilling in them the confidence that is needed for providing comprehensive care for patients in rural communities. Feel free to call, email or visit to learn more about our program!
Camelia Chirculescu, MD
Program Director
---
About Dr. Chirculescu
Dr. Camelia Chirculescu, board-certified in internal medicine, graduated from medical school at the University of Medicine and Pharmacy in Romania. She moved to the United States in 1999 and completed her internship at Sound Shore Medical Center in New Rochelle, New York. She finished her residency training at East Tennessee State University Internal Medicine Residency Program in Johnson City, Tennessee, and is proud to call this area home.
Along with the role of Program Director, Dr. Chirculescu is a practicing hospitalist at the Veteran's Affair Hospital in Johnson City, Tennessee.
Outside of work, Dr. Chirculescu enjoys traveling the world, visiting with friends and family and exploring the latest fashion trends.
---
Haytham Adada, M.D.
Critical Care Director, Core Faculty
Dr. Adada holds board certifications in internal medicine, pulmonary medicine and critical care medicine.
He completed both his internship and residency training in internal medicine at University of Pittsburgh Medical Center Mercy. Dr. Adada receive a master's degree in business administration from University of Massachusetts with a focus on medical management.
He has a special interest in ARDS (acute respiratory distress syndrome) and improving safety, quality and value in critical care settings.
Dr. Adada has multiple presentations in national conferences and publications in peer review journals. Hobbies include traveling, playing chess, and outdoor activities with his family.
Mahmoud Amarna, M.D.
Pulmonology Director, Core Faculty
Dr. Amarna graduated from Al-Quds University in Palestine and holds board certifications in internal medicine, pulmonary medicine and critical care medicine.
His professional interests include a focus on septic shock, interventional pulmonary treatment, and on quality improvement through highly effective multidisciplinary teams leading to great clinical outcomes in the critical care unit.
Dr. Amarna completed his internship and residence at East Tennessee State University's Quillen College of Medicine in internal medicine, and a fellowship at Quillen in pulmonary and critical care medicine.
His hobbies include soccer, reading and calligraphy art.
Karen Elmore, M.D.
Associate Program Director
Dr. Elmore is board-certified in internal medicine with special interests in teaching, patient compliance and communication.
She graduated from the University of Tennessee and earned her medical degree at Virginia Commonwealth University School of Medicine (formerly called Medical College of Virginia). Dr. Elmore also did her residency at the Medical College of Virginia.
Her favorite pastimes include spending time with her husband, two sons and pets, as well as gardening, reading and cooking.
Damian Sooklal, M.D.
Inpatient Medicine Director, Core Faculty
A graduate of Howard University College of Medicine in Washington, D.C., Dr. Sooklal is board-certified in both internal medicine and hospital medicine. His professional interests include quality and safety, preventive medicine, and preventing burnout.
Dr. Sooklal received his undergraduate degrees from the University of the West Indies (chemistry) and from Howard University (zoology). After graduating from Howard, he did his internship and residency in internal medicine at the Medical Center of Delaware.
His interests outside of work include writing, traveling, and playing guitar and piano.
Brooke Davis, MBA
Program Manager
Brooke Davis graduated from Radford University, in Radford, Virginia, with a Bachelor's of Business Administration. She then attended East Tennessee State University in Johnson City, Tennessee and obtained her Master's of Business Administration.
She has been working in the healthcare industry for 12 years in the areas of patient relations, hospital operations and graduate medical education.
Outside of work, Brooke enjoys spending time with her husband and two teenage sons. She leisurely reads many different genres and likes watching the Food Network.