Tuesday, Sep 12, 2023
Jennifer Harrah, experienced nursing leader, named Unicoi County Hospital administrator and chief nursing officer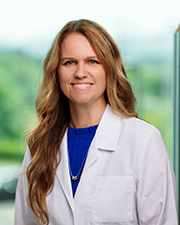 Jennifer Harrah, a longstanding nursing leader with more than a decade of clinical experience, has been named as administrator of Unicoi County Hospital.
Harrah succeeds Loveland Hobson, who was tapped to lead Ballad Health's cardiovascular service line. Harrah will work as the hospitals administrator and chief nursing officer.
"This journey is an exciting step for me, and I'm honored to represent a team that provides excellent care every single day in Unicoi County," Harrah said. "They have already invested so much in their community, and I'm confident that we will continue to do great things. I'm excited for the future of healthcare in Unicoi County."
"It was a terribly hard decision for me to leave Unicoi County Hospital, but I know I'm leaving this facility and its incredible team in the most capable hands," Hobson said. "Those who know Jennifer know that her dedication to helping others is unmatched, and those who haven't met her yet will soon see that she has a true servant's heart. I'm thrilled to see her at the helm, and I look forward to seeing where her leadership will take Unicoi County Hospital next."
Harrah began her career in healthcare as a labor and delivery room nurse at Franklin Woods Community Hospital, eventually becoming a clinical specialist at the facility. In 2018, she accepted the role of a quality and risk manager for Sycamore Shoals Hospital, taking on a multifacility role to include Johnson County Community Hospital and Unicoi County Hospital in 2021. As a quality and risk manager, Harrah embraced leadership responsibilities including team member advocacy and engagement, management of complex issues and involvement in management action plan development and goal setting, including for Unicoi County Hospital.
"Jennifer has demonstrated excellent leadership skills over the past several years, and we knew she was the right fit to lead Unicoi County, "said Lisa Carter, president of Ballad Health's Southern Region. "On top of that, Jennifer's experience as a clinician ensures her skillset will greatly benefit Unicoi County Hospital and the surrounding community. We are very fortunate to have a strong leadership team at our facilities, and Jennifer is a welcome addition."
Hobson was named administrator of Unicoi County Hospital in 2021. Under her leadership, Unicoi County Hospital grew its medical census, established a rural health model for cardiac care with the development of telemedicine for cardiology and strengthened relationships in its surrounding communities.
In her current role, Hobson has oversight of all of Ballad Health's hospital-based heart and vascular services, including surgical procedures, outpatient diagnostics and testing and the continued development of leading-edge technology and innovation. Additionally, she also helps guide service line development that further cements the health system's status as a leader in world-class cardiovascular care.
"I have been so privileged and blessed to be able to learn and grow my career with Ballad Health and do work that makes a difference in people's lives, and I'm excited for this next step," said Hobson, who began leading the service line on an interim basis last year. "I look forward to advancing the service line, building on the stellar foundation that has earned Ballad Health its worldwide reputation as a cardiovascular leader."
Hobson began her medical career at Holston Valley Medical Center as a respiratory therapist in 1998 after completing her degree at Walters State Community College in Morristown. In the 23 years that followed, Hobson's clinical experience, combined with strong leadership skills, earned her roles of increasing responsibility, eventually making the shift from clinical management to administrative management in 2012.
Prior to earning her role at Unicoi County Hospital, Hobson served as associate administrator at Johnson City Medical Center, where she oversaw and managed more than 13,000 novel coronavirus (COVID-19) vaccinations at the facility's vaccine center, in addition to ongoing administrative work. She was promoted into that role in 2019, following four years as the health system's director of procurement and contracting.