Tuesday, Mar 3, 2020
Chris Miller named vice president and chief operating officer of Bristol Regional Medical Center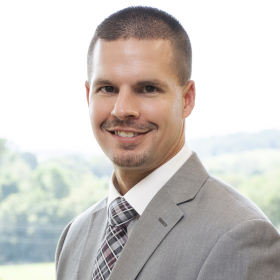 Chris Miller, a longtime Ballad Health leader and current chief operating officer of the system's Greene County operations, has been named vice president and chief operating officer of Bristol Regional Medical Center.
"I have been uniquely blessed to build a career with Ballad Health, and I'm excited and honored to move into this new chapter with our excellent organization," Miller said. "I look forward to working with our physicians and the rest of our leadership team to chart a course for our hospital that will continue to benefit our patients and team members – and, ultimately, our community as a whole."
As chief operating officer, Miller will be responsible for the daily operations of Bristol Regional's ancillary and support services departments. He also serves as a member of Bristol Regional's executive leadership team, and he will work with team members and physicians to improve hospital care, quality and experience.
"Chris is not just a skilled healthcare leader and hands-on executive, but he is an excellent cultural fit for Bristol Regional and our leadership team," said Greg Neal, president of Ballad Health's Northeast Market and chief executive officer of Bristol Regional. "He has strong business and healthcare acumen, but most importantly, he's a man of faith with unshakeable morals. We'll be able to count on Chris to always do the right thing for our patients, communities and team members, and he'll set an impressive standard for all of us to follow."
A native of East Tennessee, Miller was born at Bristol Memorial Hospital – the facility that preceded Bristol Regional – and his mother and her parents all lived in Bristol. He also attended Sullivan East High School before attending the University of Tennessee and, later, Milligan College.
At Greeneville Community Hospital, Miller led several departments, including oversight of facilities, radiation oncology, lab, pharmacy, diagnostic imaging, environmental services and dietary. Earlier in his career, he served as associate administrator at Johnson City Medical Center, where he managed many of the same departments he currently oversees in Greeneville. He also held positions of chief experience outcomes officer, director of patient experience, Smart Square system administrator and i-Choice coordinator.
"I'm thrilled for Chris to take this next step in his career," said Tammy Albright, chief executive officer of Ballad Health's Greene County market. "This is not a loss for Greene County – it's an incredible gain for the entire Ballad Health system, as more people and patients can benefit from Chris' leadership. And, as he continues to grow and flourish as a healthcare executive, he'll be able to make an even bigger impact in the future.
"However, with that said, we'll certainly miss him in our Greene County facilities. Chris is a genuinely kind, caring individual who will be next to impossible to replace."
Miller's compassion-fueled leadership style has earned him numerous awards, including "Rising Stars: 50 Healthcare Leaders Under 40" by Becker's Hospital Review in 2016; the 40 Under Forty award from the Business Journal of the Tri-Cities Tennessee/Virginia in 2016; the Healthcare Heroes award from the Business Journal of the Tri-Cities Tennessee/Virginia in 2018; and the Servant's Heart Award from Ballad Health in 2018 – the system's highest honor for team members.
Miller's love for others extends to his home life as well. He and his wife Sabrina have six children between the ages of 1 and 13 years old. Three of the children are adopted, including one born with neonatal abstinence syndrome.
"I look for my purpose, not my function, every day," Miller said. "When you do that, it changes what you do and how you do it. It gives me a great deal of purpose to come to work every day and put others first, above myself."
Miller begins his new role Sunday, April 12. He will gradually transition his role from Greene County as the health system seeks a replacement.