Monday, Mar 1, 2021
Ballad Health Appoints Chad Couch, MD, as President of Northeast Market and CEO of Bristol Regional Medical Center
Long-serving physician has been a trusted leader in the community and hospital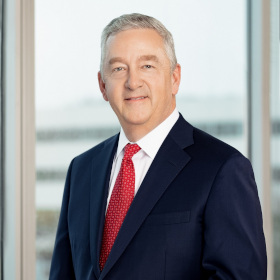 Chad Couch, MD, an experienced, board-certified urologic surgeon and longtime physician leader with Ballad Health, has been named president of the health system's Northeast Market and chief executive officer of Bristol Regional Medical Center.
Dr. Couch, who has filled this role on an interim basis since the fall, will have operational and strategic oversight of all services and operations of Bristol Regional Medical Center, Johnston Memorial Hospital, Russell County Hospital and Smyth County Community Hospital, as well as all other services within the communities served by these hospitals.
Dr. Couch's appointment adds to the complement of physician leaders Ballad Health has tapped into since its creation in 2018 and marks the first time a physician has ascended to a market and hospital leadership role.
"Ballad Health believes in the value that is created when we have a collaborative environment between our physician partners and the health system," said Ballad Health Chairman and CEO Alan Levine. "Dr. Couch is an exceptional leader, and that he happens to also be a long-practicing physician is consistent with our goal of ensuring physician leadership is infused throughout our health delivery system."
"Throughout his career in the region, Dr. Couch has consistently demonstrated the integrity and compassion for patients and team members we hope to see in our leaders," said Eric Deaton, Ballad Health's chief operating officer. In this role, Dr. Couch will report directly to Deaton.
Prior to becoming the interim president of the Northeast Market and interim CEO of Bristol Regional Medical Center, Dr. Couch served as the Northeast Market's chief medical officer and as chief medical officer of Bristol Regional. During his tenure, the hospital gained accolades for a variety of services and programs, including being recognized as one of the best facilities in the nation for orthopedic surgery, and it earned consistently top rankings for cardiovascular and overall care.
"It is clear from his past performance that Dr. Couch prioritizes high quality and a compassionate environment for patients," added Deaton. "So, it should not surprise anyone that that was a major factor in his selection."
"Ballad Health leadership has made clear that becoming a top-decile performing health system in the nation is within reach and is a priority," said Dr. Couch. "I could not agree with this objective more passionately, and this objective will be a major priority for all of us in the Northeast Market. Our patients should always have a safe, compassionate environment surrounded by experienced and dedicated staff committed to excellence in everything we do."
"I am humbled and honored to have been selected for this role, and I look forward to working with my colleagues throughout Ballad Health as we work together to serve our region."
Dr. Couch's selection followed a rigorous national search, which drew dozens of highly qualified candidates from throughout the nation. Ballad Health sought the input of local community leaders and physicians in the collaborative process, which resulted in broad support for Dr. Couch's appointment.
"Dr. Couch took on a significant responsibility during an extremely trying time in our country and community during the pandemic," said Martin Kent, president of the United Companies and chairman of the Bristol Regional Medical Center Community Advisory Board. Kent, who also previously served as Chief of Staff to the Governor of Virginia, added, "He was challenged by the timing and circumstance of performing in this interim role during extraordinary times. And not only did he perform – he led.
"It was very encouraging to draw so many highly-qualified candidates for this role, each of whom would have been excellent. It was clear to us from the beginning that Ballad Health wanted the best leader, and they wanted our active input. All of us took this process very seriously, and we are all committed to Dr. Couch's success in this role."
Since joining Bristol Regional's medical staff in 2000, Dr. Couch also served on the hospital's past board of directors, as chairman of Bristol Regional's surgery department and as a member of the medical executive committee and Physician Clinical Council.
"First and foremost, Dr. Couch has established himself as a leader with an active interest in the success of the organization," said Dr. Josh Hall, a gastroenterologist who serves as the elected president of the Bristol Regional Medical Center medical staff. "We've been blessed with great leaders in the past, but in this case, we found a leader who also happens to be a physician. I'm excited about that and appreciate that Ballad Health sees the value in physician leadership throughout the organization.
"Dr. Couch has always been a shining example of integrity and honesty. He brings a sense of teamwork and cooperation to the health system, and he's really going to be a fierce advocate for patients and medical staff, which will further enable us to attract experienced healthcare leaders and providers to the Appalachian Highlands – something I know is a priority for him," Hall said.
In addition to his role as Northeast Market president, Dr. Couch also serves on the boards of directors for Overmountain Recovery; State Volunteer Mutual Insurance Company; the Bristol TN/VA Chamber of Commerce; and the advisory board of Bristol Regional Medical Center. He is also a member of the Healing Hands Health Center Clinical Oversight Committee; past president of the Sullivan County Medical Society; and a past delegate of the Tennessee Medical Association.
Dr. Couch plans to be visible throughout the market and looks forward to developing further relationships in places such as Abingdon, Lebanon and Marion, Virginia, all of which are parts of the Northeast Market.
"For me, this really is an opportunity to give back and serve the larger region, which has been so welcoming to me and my family since we moved here 21 years ago," Dr. Couch said. "My family lives here, and my children were raised here. We love the region, and we are all invigorated by the opportunity to give back."