Keith Wilson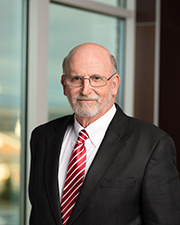 Keith Wilson, a leader in the newspaper industry for more than 40 years, has left an indelible mark on the communications field and is providing valuable business experience to Ballad Health's board of directors.
Keith began serving as the Kingsport Times-News' publisher in 1993 and was promoted to an additional role as president of Northeast Tennessee Media Group in 2011. His expanded duties included overseeing Sandusky Corp.'s other newspapers in the Tri-Cities region in 2011 – the Johnson City Press, The Erwin Record, the Herald and Tribune in Jonesborough and The Tomahawk in Mountain City. Keith served on the Board of Directors of the Tennessee Press Association.  He retired in 2016.
His leadership in the newspaper industry began immediately after his graduation from Indiana University with a bachelor's degree in political science. He worked on the business side throughout his career, including positions such as general manager, business manager and circulation director at newspapers in Indiana, Kentucky and Tennessee.
Keith is currently serving on the Foundation for Mountain Empire Community College as well as their Advisory Board of Directors. He is serving on the Kingsport Chamber of Commerce Board of Directors and the Heart of Appalachia Tourism Authority Board.  Keith supports local colleges additionally by sitting on the Kingsport Higher Education Commission.