Aldo Noseda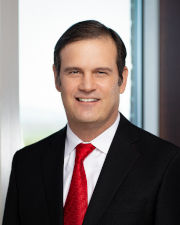 Aldo Noseda is vice president and chief information officer for Eastman Chemical Company, with responsibilities for the company's digital strategy. He joined the Ballad Health Board of Directors in October 2020.
He has led the activation of a comprehensive digital plan at Eastman, including capabilities to better serve customers, accelerate innovation and improve operations. A key highlight includes the launch of Eastman's first digital product to the market. 
Prior to joining Eastman, Noseda worked at Monsanto Company as Vice President of Information Technology, with responsibility across all commercial business units globally. In this role, he helped the company transform into a recognized digital leader in the industry. During his career at Monsanto, he led various IT and non-IT functions with a broad set of global experiences. 
Aldo serves on the School of Business at St. Louis University, Executive Advisory Board. He also represented Monsanto as Director and Member of the Board of SVD S.A. and served on the board for The Center of Application for Information Technology from Washington University. He completed an executive program in Business Administration from the IAE University in Buenos Aires.