David May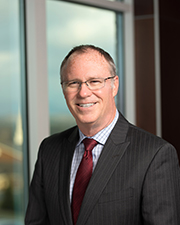 Anesthesiologist Dr. David May is president of Vigilance Anesthesia Solutions, P.C., covering anesthesia needs for Sycamore Shoals Hospital, Indian Path Medical Center and Unicoi County Memorial Hospital. He is also immediate past president of the medical staff at Sycamore Shoals Hospital in Elizabethton, Tenn., and has been a member of the Mountain States board of directors since 2010, serving as chairman of both the Quality and Credentials committees during his tenure on the board.
Dr. May also is a member of Holston Air Holdings, LLC, and the managing member of Endeavor Properties, both in Elizabethton. He received his undergraduate degree at East Tennessee State University and earned his medical degree from University of Tennessee Health Science Center College of Medicine in Memphis, where he also completed a residency in anesthesiology.
Dr. May is board certified in anesthesia and a member of  the Tennessee Medical Association, American Medical Association, American Society of Anesthesiologists, International  Anesthesia Research Society and the Carter County Medical Association.
In 2011, Dr. May received Mountain States' highest honor, the Servant's Heart Award, an honor given to those who most demonstrate leadership in and passion for the community.