Mobile Health Clinic
Image

Bringing healthcare to you
Ballad Health's mobile clinics are bringing the doctor's office to your doorstep. We are on a mission to provide rural areas of the Appalachian Highlands with easy and low-cost access to primary care, mammograms and preventive services.
Call (866) 517-5873 to find out where our mobile unit is today or to schedule an appointment.
What is a Mobile Health Clinic?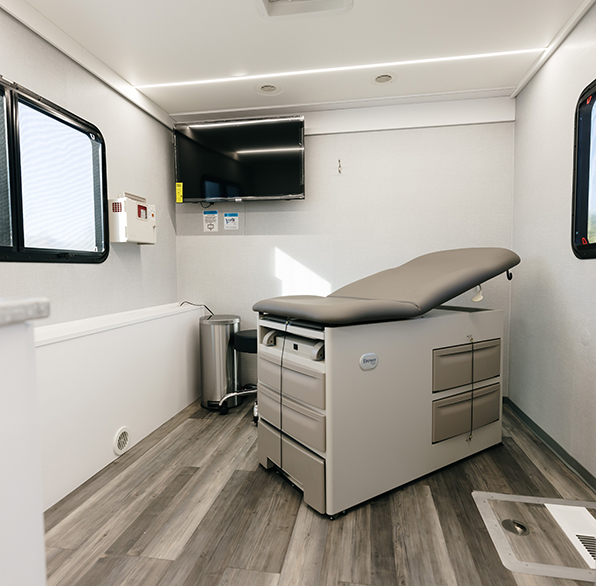 Our Mobile Health Clinic are fully-equipped healthcare facilities on wheels. Think of them as clinics on the go, tailored to meet the healthcare needs of rural TN and VA.
This state-of-the-art mobile unit is staffed with dedicated clinical professionals who are committed to ensuring that every individual in the region has access to the care they deserve. Clinical staff are onsite to navigate patients to additional care if needed, including a connection to primary care.
Mobile health unit services
We have two mobile health units, one for primary care services and one for mammography services.
Primary care services
The Mobile Health Clinic provides basic screenings, tests and primary care services including:
Height, weight and blood pressure check
Tests for common illnesses – such as strep, flu and COVID-19
Vaccinations – flu and COVID-19 vaccinations
A1C test – a simple blood test that measures your average blood sugar levels over the past 3 months
Women's health – including pelvic exams, breast exams and cervical cancer screenings
Sexual health – including birth control medication and sexually transmitted disease (STD) testing
Health education – including education on the importance of regular check-ups and cancer screenings
Social needs screening and navigation – help connecting patients to resources and assistance
Mammograms and imaging services
Our mobile Mammography unit is dedicated to bringing you easy access to early detection for breast cancer. One in eight women will develop invasive breast cancer over the course of her lifetime. Finding breast cancer early reduces your risk of dying from the disease by 25-30% or more. 
Mammograms
Follow up diagnostics – if needed, our team can help you navigate your next steps
Social needs screening and navigation – help connecting patients to resources and assistance
A screening mammogram is a relatively quick procedure, taking about 15-20 minutes from start to finish. Discomfort is minimal for most women, and your technician will work with you to ensure your comfort. 
Help with food, utilities, housing and more
We understand that healthcare goes beyond clinical treatment. That's why an Appalachian Highlands Care Network Community Navigator is available at the Mobile Health Clinic to connect you with resources to help in hard times.
The Community Navigator (CN) can help:
Arrange food delivery
Utilities assistance – if you are struggling to pay your utility bills, such as electricity, water, gas, heating, and cooling, we can help connect you with social support
Advocate with landlords – if you're facing an issue with your housing, our CNs can advocate on your behalf
Connect to local community organizations – whether it's support groups, counseling services, or financial assistance programs, our CNs will connect you to the right resource
Benefits education – the rules around benefits can be confusing, but our CNs can educate you and connect you to benefits you are eligible for
Will I see the same provider every time?
Yes, you will see the same provider every time you visit a Mobile Health Clinic. You can connect with our team of Appalachian Highlands Care Network Community Navigators as well. Please note that the staff on our primary care mobile unit is different than the staff on our mammography mobile unit, so if you visit both clinics, you will see different staff. 
How am I billed?
If you are insured, then we will file with your insurance. If you are uninsured, we do not bill for services.
Book an appointment
To schedule an appointment or for more information about our program, please call (866) 517-5873 and mention the Mobile Health Clinic.
Funding for the Mobile Health Clinic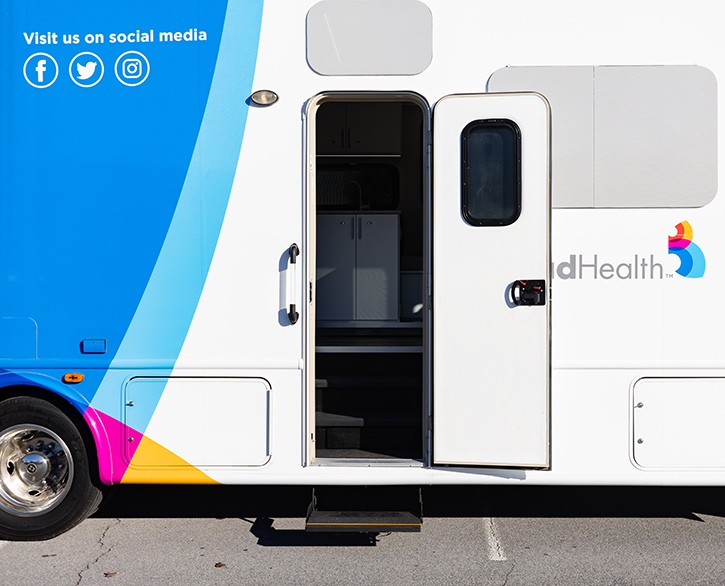 The Ballad Health Mobile Health Clinic is funded through community support. PYA, a national healthcare consulting firm, donated funds to the Ballad Health Foundation to purchase this mobile health unit.
The Foundation also provided funding for the mammogram technology.
Learn more about the Ballad Health Foundation.