STRONG Accountable Care Community

Creating a brighter future for all people in the Appalachian Highlands
The STRONG Accountable Community (STRONG ACC) is a community coalition of over 300 partner organizations working together to create stronger futures for children, families and communities throughout a 21-county region of Northeast Tennessee and Southwest Virginia.
What is the STRONG ACC?
The STRONG ACC was formed in 2018 based on growing evidence that addressing social determinants of health through enhanced clinical-community linkages can improve health outcomes and reduce cost.
The coalition's work is aimed at building long-term regional resilience by planning and coordinating initiatives across a continuum from prenatal care to college and career readiness.
Measuring collective impact
The STRONG Accountable Community uses the collective impact model to bring diverse partners together through a common agenda, aligned activities, shared measurement and continuous communication.
The ACC's strategic agenda is trauma-informed and focused on enhancing early childhood development, educational success and workforce development today – leading to greater earning capacity and improved health tomorrow.
Who is a part of the STRONG ACC?
Members of the Accountable Care Community participate in coordinated efforts to improve the well-being of all citizens in the Appalachian Highlands.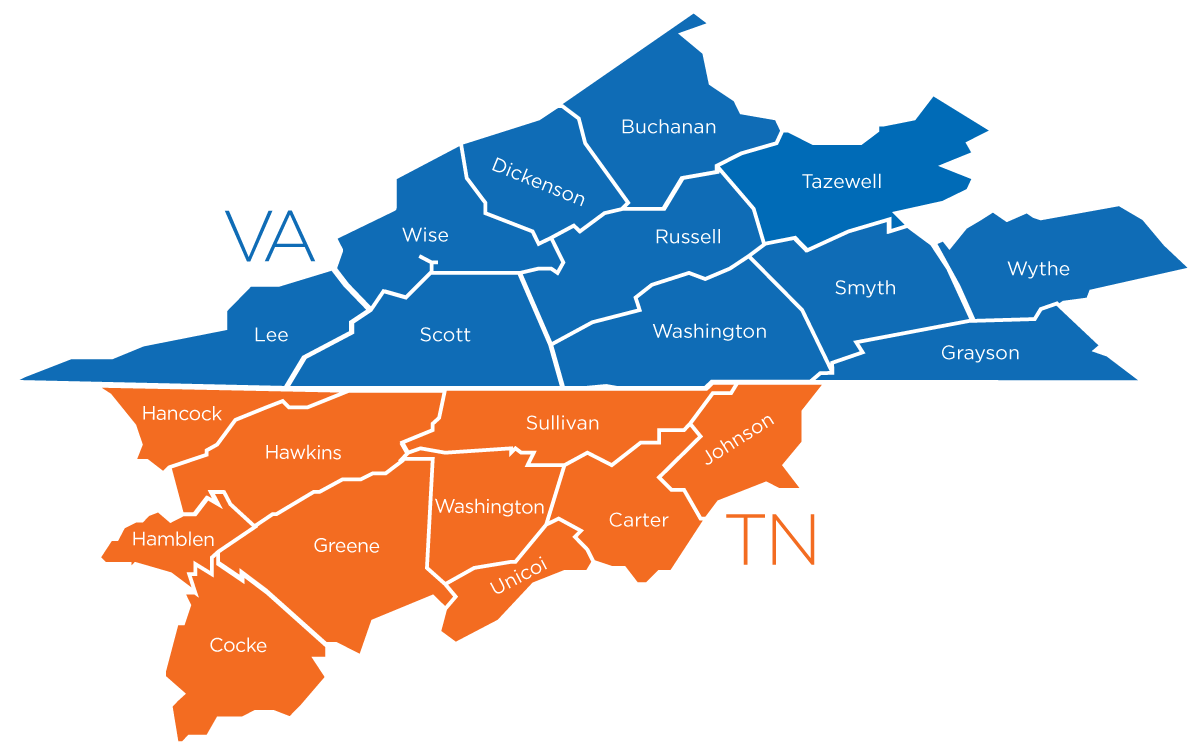 21-county Accountable Care Community region
The STRONG ACC has partners in a broad range of sectors, including:
Early, primary and secondary education
Colleges and universities
Businesses
Healthcare organizations
Behavioral health organizations
Public health organizations
Social services
Local governments
Faith organizations
Learn more about STRONG's organizational partners.
Leadership & backbone organizations
The STRONG ACC is governed and directed by a 24-member leadership council comprised of 12 Virginians and 12 Tennesseans that represent a broad cross-section of community leaders and stakeholders.
A wide array of committees and workgroups function to support the coalition and enable partners to align their activities with the regional agenda.
Since it's inception, the STRONG ACC has enjoyed generous backbone support from Ballad Health and the United Way of Southwest Virginia. Backbone partners work with the STRONG ACC's leadership council and staff to advise on strategy, support aligned activities, establish shared measurement, build public will, advance policy and mobilize funding.
Get involved
Visit the STRONG Accountable Community's website to learn more about the coalition and how your organization can join in united efforts to create better outcomes for the people of our region.