Wednesday, Feb 19, 2020
Stephanie Cook promoted to chief nursing officer of Franklin Woods Community Hospital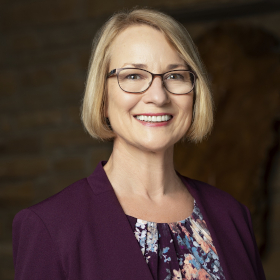 Ballad Health has selected Stephanie Cook, a board-certified nurse executive, to serve as its new chief nursing officer of Franklin Woods Community Hospital in Johnson City, Tennessee.
Cook, who started her new role Jan. 27, will now have oversight and responsibility for planning, direction and monitoring of nursing operations for the 80-bed community hospital, which offers a variety of primary and specialty services. She will also serve as a member of the executive team that is actively involved in analysis, planning and implementation of strategic and growth initiatives for Franklin Woods.
"I am honored to receive this promotion, and I look forward to continue working with the wonderful team members, nurses and doctors at Franklin Woods to bring high-quality care to our patients," said Cook, who is a member of the Tennessee Nurses Association, the American Nurses Association and the American Organization of Nurse Leaders.
"I've spent my entire career working in acute care hospitals, and with my previous experience working at Franklin Woods, I can attest that it is one of the best hospitals a nurse can work at, and I want to ensure that continues."
Prior to her appointment as chief nursing officer, Cook served for more than four years as the director of Patient Care Services at Franklin Woods, where she gained valuable regulatory and patient safety experience.
Cook said one of her proudest professional accomplishments was helping Franklin Woods earn the Pathway to Excellence designation from the American Nurses Credentialing Center, which recognizes healthcare organizations that demonstrate a commitment to creating a healthy workplace for staff.
As the Pathway to Excellence coordinator, Cook was the primary author of the Pathway Standards document. She also planned educational and informational events to generate nursing engagement that resulted in the designation.
"Stephanie brings a wealth of knowledge and experience to her new position as chief nursing officer at Franklin Woods, and I have no doubt that she will be successful in her new role," said Melanie Stanton, CEO of Franklin Woods.
"She is a transformative leader who is well-versed in recruiting, training and managing team members to provide exceptional care to our patients."
Dating back to 2008, Cook has worked at various hospitals across the Ballad Health system, including Johnston Memorial Hospital, the Regional Cancer Center at Johnson City Medical Center and Indian Path Medical Center.
Cook also served for two years as an adjunct faculty member for the Virginia Appalachian Tricollege Nursing Program (VATNP) at Virginia Highlands Community College in Abingdon, Virginia.
Cook earned her associate degree in nursing from Southwest Virginia Community College, her bachelor's degree in nursing from King University and her master's degree in nursing administration from Old Dominion University. She also completed a post master's certificate program in executive leadership at Milligan College.