Wednesday, Mar 7, 2018
Spirit Gala Raffle car winner glad to support Niswonger Children's Hospital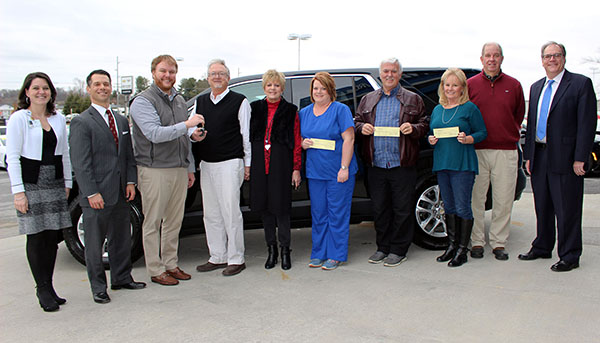 From left: Tiffany Willis, Ballad Health Foundation coordinator; Clay Rolston, executive
director of Ballad Health Foundation; Andy Dietrich, co-owner, Champion Chevrolet Cadillac;
raffle winner Martin Bailey and his wife, Diane; raffle cash winners Lisa Phillips, Bill Pearce
and Mona Norton; Tim Copenhaver, co-owner, Champion Chevrolet Cadillac; and Todd Norris,
Ballad Health Foundation president.
JOHNSON CITY, Tenn. – Like almost all the participants, Martin Bailey bought raffle tickets so he could support Niswonger Children's Hospital – but he didn't really expect to win anything.
The pharmacist from the small community of Parrottsville got a lot more than he bargained for, though. Bailey was the grand prize winner of the Mountain States Foundation's Spirit Gala Raffle, which landed him a 2018 Chevy Traverse donated by Champion Chevrolet Cadillac. This was the 11th year the dealership has donated the grand prize.
"I wanted to support the hospital and I thought, 'What's the best way? Buy a raffle ticket,' " Bailey said. So he bought two tickets at $50 apiece shortly before Christmas. Then, like all past winners, he didn't know whether to believe it when he received the news he'd won. It came in the form of a phone call on Jan. 27 when the raffle drawing was held during the annual Spirit Gala.
"We were already in bed when the call came," Bailey said, recalling it fondly. Because of spotty cellphone phone reception in his area, he didn't take the call, but then representatives from the Spirit Gala texted him and were able to get him on the land line. Even then, with the loud live music playing in the background of the call from the Spirit Gala – being held at The Venue in downtown Johnson City – Bailey said he wasn't 100 percent sure it was all for real.
"I thought, 'I might have won a car,' but then I didn't know if it was a prank," he said. "I was on pins and needles for a while, wondering for sure if it was legitimate. It wasn't until Monday when I talked to the foundation again that I was sure.
"I don't excite easily," he added with a smile, "but I was excited."
"He didn't even tell me he'd bought a raffle ticket," said his wife, Diane, with a laugh, "so it was a total shock to me."
Bailey co-owns two pharmacies, located in Greeneville and Newport. Parrottsville is a small community situated between the two cities. Diane, now retired, was a high school teacher and medical transcriptionist in Texas, but she grew up in East Tennessee and went to East Tennessee State University.
Bailey got to choose from a 2017 Chevrolet Silverado Double Cab 2WD, a 2018 Cadillac ATS or a 2018 Chevrolet Traverse FWD from Champion Chevrolet Cadillac.
"We're proud to sponsor the raffle again," said Andy Dietrich, co-owner of Champion Chevrolet Cadillac. "Our community is very fortunate to have a children's hospital that can treat our kids locally where families don't have to travel or be separated from one another for treatment. Helping raise money for such a great cause is one of the ways we give back."
The dealership has given away seven new cars and $100,000 in cash over the life of the raffle.
"We're so grateful for the long-time support of everyone at Champion Chevrolet Cadillac," said Clay Rolston, executive director of the Ballad Health Foundation. "Their generosity has been amazing, and it truly makes a difference in the lives of the children we take care of at Niswonger Children's Hospital."
The raffle and Spirit Gala were the final events for Mountain States Foundation, which recently joined with the Wellmont Foundation to create the new Ballad Health Foundation. This was a result of the merger of Mountain States Health Alliance and Wellmont Health System into Ballad Health.
The raffle sold about 1,900 tickets, grossing $95,000 to support the children's hospital.
There were also drawings for three cash prizes from the raffle:
$2,500 – Lisa Phillips, RN, of Jonesborough. She is a house supervisor at Johnson City Medical Center, where she has worked for 24 years.
$1,500 – Bill Pearce. He's been buying tickets for the last four years and almost missed out this year, but visited Champion Chevrolet Cadillac the day before the drawing to buy his winning ticket.
$1,000 – Mona Norton, Limestone. She's retired from Eastman Corporation and said she's been buying raffle tickets and supporting the hospital for the last 10 years.
For more information about the Ballad Health Foundation, visit www.BalladHealth.org/foundation or call 423-330-8550 or 423-302-3131.