Friday, Feb 14, 2020
Pam Austin named Ballad Health's senior VP/chief information officer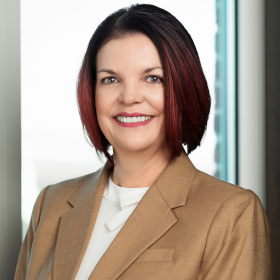 Ballad Health has named Pam Austin, a 23-year veteran of the health system, as senior vice president and chief information officer (CIO). She had served as senior VP and interim CIO since April 2019.
Austin will oversee the organization's information technology (IT) team and operations with responsibility for governance, strategy, architecture, analytics, security and the optimization of our technology platforms.
She began her career with Mountain States Health Alliance as senior system analyst and moved into roles of increasing authority and responsibility. Austin served as vice president of information technology before being named as Ballad Health's vice president, CIO-operations in February 2018. In her leadership roles, she has provided oversight for IT strategy, product development, technology assessment and the implementation of many critical enterprise system changes.
Austin has played an essential role in preparing Ballad Health for one of its most important initiatives – the system-wide launch of Epic, the industry's leading electronic medical record system. Transitioning the entire health system to Epic will standardize medical records across Ballad Health – as well as make the records accessible to other healthcare providers – resulting in improved patient care.
Austin recently led the organization's IT team in successfully achieving a key milestone in the conversion to Epic that will allow Ballad Health to transition to a new domain with a common email system and unified electronic health record.
"Pam is an accomplished IT professional and we're fortunate to have her in this leadership role during this transformational time in our organization," said Marvin Eichorn, Ballad Health's executive vice president and chief administrative officer. "In an era of rapidly changing technology, her vast knowledge and experience will help us fully leverage our operational capacity and technical support."
Austin earned her undergraduate degree in Management from Virginia Intermont College and a Master of Business Administration from King University. Her professional training includes certifications in project management, lean practices and technology infrastructure and systems.