Friday, Sep 11, 2020
Niswonger Children's Hospital CEO Lisa Carter tapped for prestigious statewide post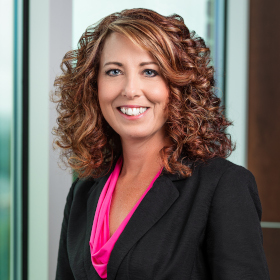 Lisa Carter, chief executive officer of Niswonger Children's Hospital and Ballad Health's vice president of pediatric services, has been voted chairman of the board for the Children's Hospital Alliance of Tennessee (CHAT).
CHAT is a collective of organizations such as Niswonger Children's Hospital, East Tennessee Children's Hospital and Monroe Carrell Jr. Children's Hospital at Vanderbilt that enables their leaderships and experts to collaborate and advocate for children's health issues. This is the first time a team member from Niswonger Children's Hospital has been voted into the chairman role.
"Lisa has dedicated so much of her life to improving children's lives in the Appalachian Highlands, and in her new leadership role with CHAT, she'll be able to channel that passion on an even larger scale – making the children of Tennessee and beyond healthier, happier and stronger," said Ballad Health Chairman and CEO Alan Levine. "This is an incredible honor, and we're all immensely proud and excited Lisa's peers have recognized her immense abilities and elected her to this new position.
"The talent, compassion and insight that have driven Lisa to reach new heights at Niswonger Children's Hospital for the last five years will surely propel CHAT to similarly advance children's healthcare across the state. This is a very, very good thing for our children, our families and our communities.
Since taking the reins at Niswonger Children's Hospital in 2015, Carter has implemented new programs that address pressing children's healthcare issues such as neonatal abstinence syndrome (NAS), trauma informed care and community and social determinants of health. She has also helped spearhead initiatives that extend telemedicine options into rural parts of Niswonger Children's Hospital's 29-county service area, enabling remote and disadvantaged communities to have access to specialized pediatric care.
"I will always be an advocate for children and their families, as well as for the physicians and team members who care for them," Carter said. "The healthcare environment is ever-changing and constantly evolving. We strive to keep our medical care and hospital services abreast with these changes, while also supporting and growing the services we provide to our communities, outside of hospital walls and doctor's offices, that enhance children's health and well-being.
"I very much look forward to leading CHAT through the changes and challenges of the coming year, and I'm extremely excited for this opportunity to continue serving our youngest community members, both inside and outside CHAT's member hospitals."
Carter's passion for children's health began after a high-risk pregnancy, when she delivered a premature baby boy who required around-the-clock care in a neonatal intensive care unit (NICU) and several follow-up appointments with pediatric subspecialists after he was discharged. From there, she joined the children's hospital team in 2001, eventually becoming vice president and chief nursing officer of Niswonger Children's Hospital and Johnson City Medical Center, during which time the hospital's Family Birth Center achieved the 99th percentile in patient satisfaction, and its Level I trauma center earned successful state re-designation with commendations.
"Lisa is diligent, fair, and mission-driven," said CHAT President Mary Nell Bryan. "She researches every topic with the utmost thoroughness, is tremendously effective at building consensus and always seeks to work toward the greatest good for children – the greatest good for everyone, in fact. She works every day to overcome any obstacles to that."
Carter will continue fully serving her role with Ballad Health during her appointment as chairman of the board for CHAT.
More information about Carter and Niswonger Children's Hospital can be found on our Niswonger Children's Hospital page.