Monday, Apr 9, 2018
Nikki Vanburen named chief nursing officer at Franklin Woods, Woodridge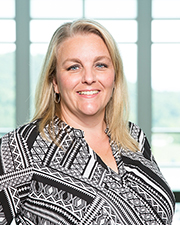 JOHNSON CITY, Tenn. – Nikki Vanburen has accepted the position of chief nursing officer at Franklin Woods Community Hospital and Woodridge Hospital. She has served as chief nursing officer at Johnston Memorial Hospital since 2014, and was with Mountain States for 17 years before the organization merged with Wellmont Health System to become Ballad Health.
Vanburen is taking over the role from Trish Baise, who was recently named chief executive officer of Franklin Woods and Woodridge, as well as senior leader of Overmountain Recovery.
"Nikki has a great track record of inspiring collaboration among different types of healthcare professionals, leading to improvements in safety and quality of care as well as greater team member engagement," said Baise. "I have every confidence she'll be a tremendous asset to our hospitals."
Vanburen has held progressive leadership responsibility for the past 10 years. As Johnston Memorial's chief nursing officer, she played a key role in performance improvement utilizing lean methodology. Vanburen has helped improve new nursing retention rates, improve sepsis mortality in collaboration with physicians, implement neonatal abstinence syndrome initiatives, and achieve designation as a Joint Commission-certified primary stroke center, among many other accomplishments.
She earned a Bachelor of Science in nursing from East Tennessee State University, and a Master of Science in nursing and a Master of Business Administration from King University. She lives in Johnson City with her husband and her son, who is a senior at Science Hill High School. In her free time, she enjoys spending time with her family, visiting local theaters and volunteering.
About Franklin Woods Community Hospital:
Franklin Woods Community Hospital is an 80-bed not-for-profit hospital located in Johnson City, Tenn. The state-of-the-art facility offers a wide range of general and specialty surgical services, including many minimally invasive surgical procedures using advanced robotic surgical systems. Franklin Woods also provides a family birth center, and is the first hospital in the state to earn Perinatal Care Certification from The Joint Commission. The hospital was named one of the nation's "100 Top Hospitals" by Truven Health Analytics for two years in a row. Franklin Woods is designated by the U.S. Green Building Council as a Silver level LEED-certified hospital for implementing green design and building strategies to reduce energy and water consumption while increasing the health and well-being of those who use the facility. Learn more about Franklin Woods Community Hospital at www.balladhealth.org/fwch.
About Woodridge Hospital:
Located in Johnson City, Tenn., Woodridge Hospital is an 84-bed inpatient psychiatric hospital serving a 29-county region of Northeast Tennessee, Southwest Virginia, Northwest North Carolina and Southeast Kentucky. The dedicated professionals at Woodridge Hospital offer mental health and chemical dependency services for adults, adolescents and children ages six and older. The Woodridge team of professionals includes mental health therapists, discharge planners, expressive therapists and psychiatric nurses who assist patients on their road to recovery. Woodridge also offers Respond, a 24-hour hotline staffed by caring professionals who are trained to assist in times of crisis. To reach the Respond team, call 1-800-366-1132. For more information about Woodridge Hospital, visit www.balladhealth.org/woodridge.