Monday, Apr 9, 2018
Linda Shepherd named Johnston Memorial's chief nursing officer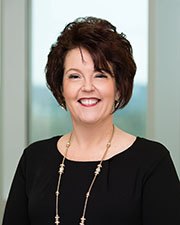 ABINGDON, Va. – With more than 25 years' experience in healthcare, Linda Shepherd has been appointed as Johnston Memorial Hospital's chief nursing officer.
In this role, Shepherd will be responsible for the overall quality of nursing care at Johnston Memorial, which includes its surgical, orthopedic, rehabilitation and stroke services, as well as the emergency department and family birth center.
Shepherd comes to Johnston Memorial after serving as the chief nursing officer at Smyth County Community Hospital.
"This is a great opportunity for Linda to advance in her career with Ballad Health," said James Tyler, chief executive officer of Smyth County Community Hospital. "Linda has brought several admirable changes here, and these advancements are a testament to her that will live on in our facility."
During her time at Smyth County, Shepherd implemented the DAISY award program, which recognizes outstanding achievements in nursing, and she also established AIDET communication to bolster understanding between patients, their families and team members.
Shepherd was also instrumental in developing the Southwestern Virginia chapter of the Virginia Nurses Association, and she currently serves as its president. For the last three years, she has also served on the boards of directors for the Virginia Nursing Association and the Virginia Nurses Foundation, and she is a delegate to the American Nurses Association Congress. 
"Linda's experience helps her understand the distinct issues facing our hospitals, health systems and nursing profession in Southwest Virginia," said John Jeter, chief executive officer of Johnston Memorial. "We're honored to have her with us as we work with team members to provide the best possible care to the patients we serve."
Before joining Ballad Health, Shepherd distinguished herself as a healthcare leader through roles with Carilion Clinic and HCA Healthcare. Her accomplishments in patient care and nursing administration led to the achievement of a Pathway to Excellence designation from the American Nurses Credentialing Center, as well as significant gains in Press Ganey scores and reductions in fall rates in those facilities.
In addition to her role as chief nursing officer, Shepherd will continue to serve as a member of the Virginia Department of Health's Virginia Stroke Systems Task Force, the president-elect of the Virginia Nurses Association and committee chair for the Virginia Nurses Foundation's Nurse Leadership Academy.
About Johnston Memorial Hospital:
Johnston Memorial Hospital is a not-for-profit 116-bed modern medical facility located in Abingdon, Va. Built in 2011, it's the first "green" hospital in Southwest Virginia certified by LEED and Energy Star, and offers a 24-hour interventional cardiology program, a family birth center with a full-time pediatric hospitalist team, women's services, oncology services and a full array of surgical services. Johnston Memorial Hospital is also home to a Regional Cancer Center, which provides comprehensive cancer treatment that includes medical and radiation oncology, diagnostic radiology and laboratory services. Learn more about Johnston Memorial at www.balladhealth.org/JMH.