Friday, Jul 15, 2022
Lee County Community Hospital reaches first anniversary, achieves major milestones
The against-all-odds success story of Lee County Community Hospital – one of the only rural hospitals in the nation to reopen after closing nearly a decade ago – has reached its first anniversary, marking the occasion with several significant milestones.
Lee County Community Hospital is a 10-bed modern medical facility, specifically designed to meet the needs of its community. Since reopening, it has met those expectations and more, impacting thousands of people's lives in just its first year of operations.
"We listened to what our community really wanted and needed from their local hospital, then we created the new facility in the image of that," said Mitch Kennedy, administrator of Lee County Community Hospital. "We're working every day to provide an access point for the people of Southwest Virginia and Southeast Kentucky to receive the care they need for safer, healthier, better lives."
Community impact
Prior to reopening, Ballad Health worked closely with the Lee County Hospital Authority and other local leaders to identify the most-needed services for the new hospital. With that in mind, the new facility opened with acute and emergency services, diagnostic radiology and lab services available 24 hours a day, seven days a week.
Since its ribbon-cutting on July 2, 2021, Lee County Community Hospital has maintained a robust patient roster. Located in rural Pennington Gap, Virginia, the hospital has the second-highest average census of all four Ballad Health critical access hospitals. More than 10,000 patients have been served in the hospital's emergency department, while the outpatient departments of the hospital have served more than 13,000 patients to date.
Leaders from Lee County and Ballad Health ensured the new hospital offers an extensive array of outpatient services, including:
Rotating clinic and telemedicine access to specialty care consultants
Mobile health services for preventive screenings
Primary care services, including lab services
Physical therapy services
Care coordination services
Access to a network of behavioral health services through a coordinated system of care
Community-based education, prevention and disease management services for prominent programs of emphasis
"It is wonderful to have our hospital reopened here in Lee County. It is a blessing that our residents have a location that provides quality healthcare," said Diana Pope, a member of the Lee County Hospital Authority. "In the past year, our hospital has saved many lives, and we look forward to maintaining this high level of care that will result in many more lives saved in the future."
Critical access designation
In 2021, Lee County Community garnered an important designation as a Critical Access Hospital by the Centers for Medicare and Medicaid Services (CMS).
The Critical Access Hospital designation, created by Congress in the 1997 Balanced Budget Act, is meant to reduce the financial vulnerability of rural hospitals and improve access to healthcare by keeping essential services in rural communities. To accomplish that goal, Critical Access Hospitals receive certain benefits, such as cost-based reimbursement of Medicare and Medicaid services.
Lee County Community Hospital is now Ballad Health's fourth critical access hospital, joining Johnson County Community Hospital in Mountain City, Tennessee; Dickenson Community Hospital in Clintwood, Virginia; and Hancock County Hospital in Sneedville, Tennessee.
"This designation is a major step forward for healthcare access and viability in Lee County, and it signifies the keeping of a promise Ballad Health made more than three years ago," said Shannon Showalter, CEO of Ballad Health operations in Wise, Dickenson and Lee counties. "From the beginning, Ballad Health has been all-in on our promise to this community, and we've worked in tandem with local, state and national leaders to make this hospital a reality.
"We've been extremely pleased by the support we received on the long road to reopen this hospital," Showalter continued. "The success of Lee County Community Hospital would not have been possible without tremendous governmental and legislative support. United States Sen. Mark R. Warner of Virginia; United States Sen. Tim Kaine of Virginia; United States Rep. Morgan Griffith of Virginia; Commonwealth Sen. Todd Pillion, DDS, of Virginia's 40th District; and Commonwealth Del. Terry Kilgore of Virginia's 1st District, as well as local leaders from throughout Lee County have continually demonstrated their enthusiasm for the new facility.
"From approvals in the Cooperative Agreement that governs Ballad Health in Virginia, to the active support to approve Lee County Community Hospital as a Critical Access Hospital, cooperation and coordination with legislative and executive leaders in the Commonwealth has been paramount, and now, we're very grateful that CMS and the federal government are recognizing Lee County Community Hospital's tremendous benefit to its community."
To obtain the Critical Access Hospital designation, eligible hospitals must meet the following conditions:
Have 25 or fewer acute care inpatient beds
Be more than a 35-mile drive from another hospital or be more than a 15-mile drive from another hospital in an area with mountain terrain or only secondary roads
Maintain an annual average length of stay of 96 hours or less for acute care patients
Provide 24/7 emergency care services
Prove community need by admitting 10 total patients
"The speed at which we were able to hit the milestone of 10 inpatients is indicative of how much the Lee County community needed this hospital. Lives have already been saved here, and we know many more will be saved in the years to come," Kennedy said.
Serving the community's past, present and future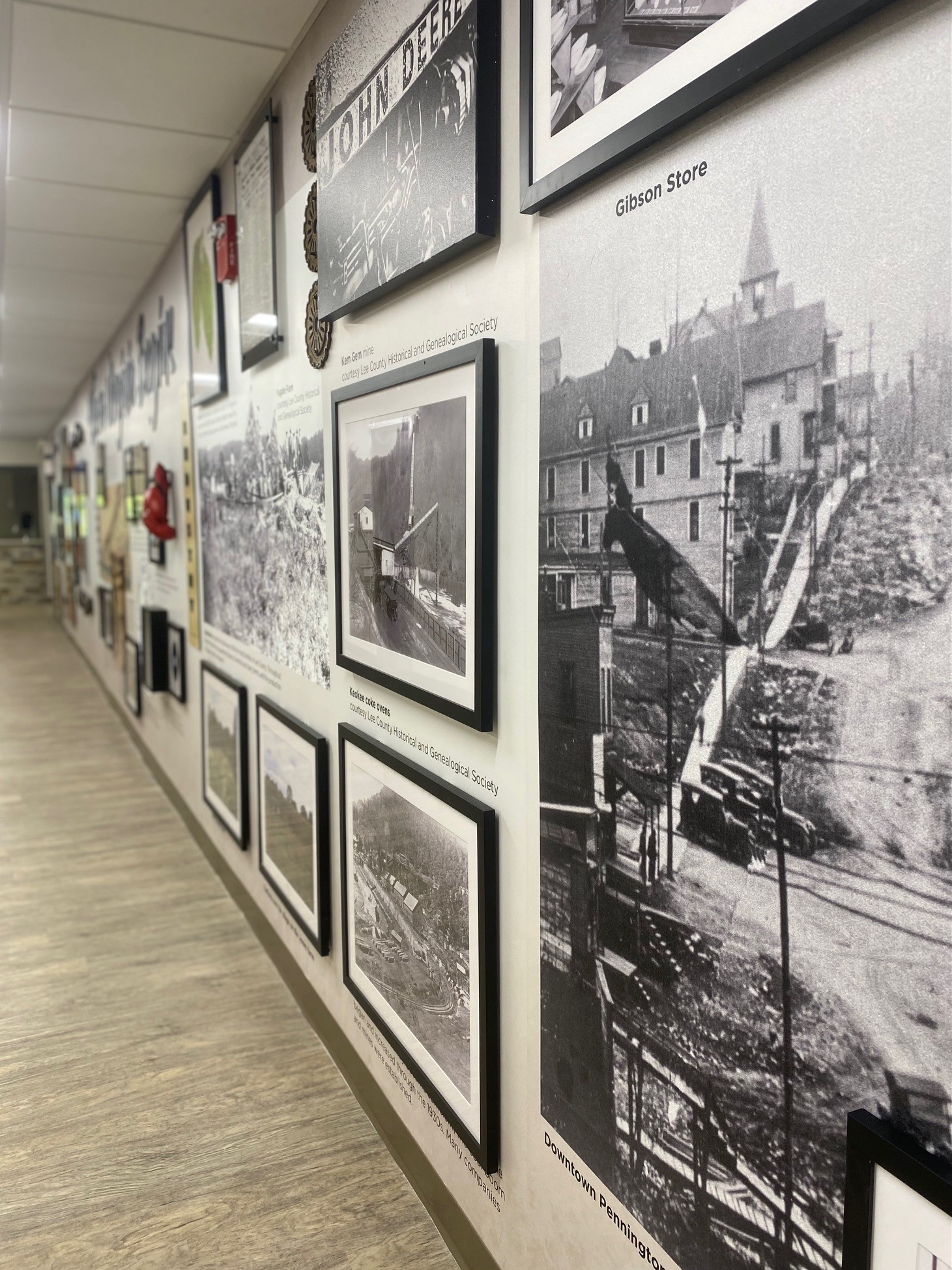 To celebrate its anniversary, the Lee County Hospital Authority commissioned Theresa Burchett Hammons, a native of Lee County, to curate content for a Heritage Wall to be featured in the hospital.
Leaders from Ballad Health and the Lee County community were on hand to unveil the wall during the hospital's first anniversary celebration on Thursday, July 14. Team members and guests began the event by observing a moment of silence for the flood victims and in reflection of the devastation in neighboring Buchanan County, Virginia.
The Heritage Wall is a 52-foot exhibit featuring photographs, mementos and descriptions that tell the story of the Lee County community through the eyes of the people who have lived there. It denotes significant events in the county's history, and it is divided into sections highlighting the county's establishment, natural beauty, people and industry.
"Lee County is often described as the 'Last County in Virginia'," Hammons said. "But this exhibit, showcasing the county's history, beauty and people, kind of reverses that concept of the county being 'last.' That's why we titled it, 'Where Virginia Begins…'"
Hammons said her goal with the project was to gather 15 to 20 stories and historical components that were significant to the county's history. She relied on gathering stories from community members, the local library, the local historical and genealogical society and other archival collections.
"I wanted to create the exhibition's narrative in a way that would advance the understanding of the complex, interconnected relationships developed through the social and economic life of the people who have called this part of Southwest Virginia home," said Hammons, who has more than 20 years of museum experience and currently serves as the director of the Town of Jonesborough's McKinney Center for the Arts.
Hammons worked with local interior designer Missy Whitehead of Missy Whitehead Designs, who designed and installed the wall display.
The Heritage Wall features:
A photo and autographed glove from former professional boxer Barry Audia, a native who once was the seventh-ranked welterweight boxer in the world and now serves as a local teacher
A section memorializing the barrier-breaking Rev. Theodore Carson, the first Black person to serve on Lee County Hospital Board of Directors, the Pennington Gap Town Council and the Hospital Chaplains Association
Photography from Harold Jerrell that captures the beauty of some of Lee County's most iconic natural wonders, including White Rock Cliffs and the Sand Cave
The Heritage Wall covers an entire section of hallway in the Lee County Community Hospital facility, and patients and visitors will be welcome to view the historical display.
Learn more about Lee County Community Hospital.