Friday, Jan 27, 2023
Construction begins at Barbara Humphreys Family Birth Center at Indian Path Community Hospital in Kingsport
The new year brought new construction to Indian Path Community Hospital, as Ballad Health broke ground on an $8 million project to renovate the Barbara Humphreys Family Birth Center.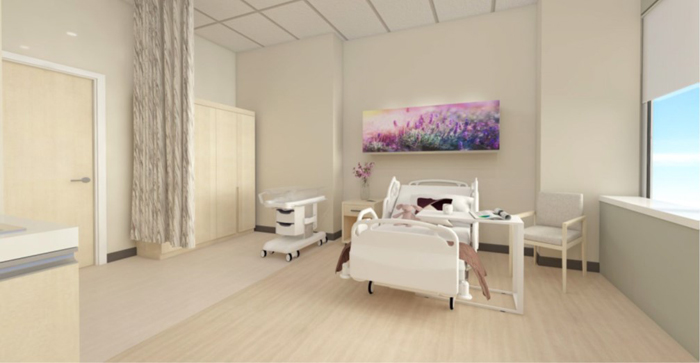 Construction officially started on Jan. 4 and involves renovating the interior of the birthing center and upgrading it with modern aesthetics to provide more space and a better care environment for team members, patients and families. Once completed, the renovation work will lead to improved patient flows and more efficient care.
"We are extremely excited to get this project underway and transform the Barbara Humphreys Family Birth Center to better suit our patients' needs," said Rebecca Beck, chief executive officer of Indian Path Community Hospital and Holston Valley Medical Center.
"Once the new family birth center is finished, our patients will be very pleased – it will enhance their care experience tremendously. We're installing brand-new flooring, repainting the walls and redesigning the entire layout to make everything sleek and modern. We are thrilled to be able to offer this new space to the city of Kingsport."
The newly renovated Barbara Humphreys Family Birth Center will have 12 labor, delivery, recovery and postpartum rooms; five patient rooms; two triage rooms; an updated nursery; and a new waiting area. Team members working at the center can also expect an updated meeting space, locker rooms and on-call rooms.
In Phase II, the hospital lobby and main entrance will also receive a makeover. The lobby will be named in honor of Eastman Credit Union, which contributed $1 million in 2021 to support projects in the Niswonger Children's Network – Ballad Health's encompassing system of care for children in the Appalachian Highlands, which also includes its birthing centers.
"These renovations and cosmetic upgrades will create an ideal care environment, and patients can expect the same legacy of great care that has been a staple of the Barbara Humphreys Family Birth Center since it was christened in 2016," said Dwight Owens, administrator and chief operating officer at Indian Path. "This is an exciting development for Indian Path, but most importantly, it's a great thing for families in our region."
Patient care – both for the birthing center and throughout Indian Path – is unaffected during the renovation work, but parts of the hospital will be cordoned off and inaccessible to the public while construction is underway. The project is expected to be complete by the end of 2023.
The birthing center is a keystone of the Ballad Health Niswonger Children's Network, which seamlessly integrates care for women, babies and children throughout the Appalachian Highlands.
More information about the birthing center, as well as Ballad Health's full roster of women and children's services, is available at www.balladhealth.org.