Monday, Jul 2, 2018
Kenny Shafer named chief operating officer for Johnson City Medical Center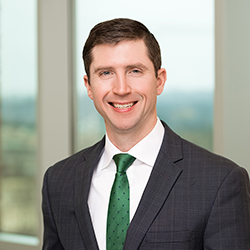 Kenny Shafer, an accomplished healthcare executive with extensive experience in Ballad Health hospitals, has been named the chief operating officer for Johnson City Medical Center.
In his new position, Shafer will handle day-to-day operations of the hospital, ensuring it delivers the best possible care to patients served by its team members. He will also be actively involved in service line strategies, including those for neuroscience, cardiovascular and orthopedic, and he will collaborate with executive leaders and physicians to improve quality and patient satisfaction.  
Shafer comes to this role after a successful tenure as the chief operating officer for Indian Path Medical Center and the assistant vice president of Ballad Health's neuroscience service line. In that role, he was responsible for overseeing facility-specific operations, strategy and initiatives, and he also guided the neuroscience services through the launch of Ballad Health in February.
"Kenny has demonstrated a strong work ethic and a passion for collaboration and results, and he has continued to grow and develop as a leader," said Stan Hickson, president of Ballad Health's southwest market. "We are excited to have him join our leadership team and look forward to the value, passion and experience he brings to our hospital and community. Together, we'll strive to make Johnson City Medical Center the best possible place for patients to receive care, our caregivers to work and our physician partners to practice medicine."
Previously, Shafer served as an associate administrator for Johnson City Medical Center, Niswonger Children's Hospital and Woodridge Hospital. During his time in that role, he co-developed a patient navigation initiative for oncology patients that helps guide them through their treatment process. He also oversaw the final construction of a new radiation oncology facility, which features two linear accelerators, and the development of Johnson City Medical Center's orthopedics/neurosurgery/trauma clinic.
Shafer also worked as the chief operating officer with Community Health Systems' Tennova Healthcare-Lebanon hospital and the assistant administrator with Bayfront Health in Florida. Most recently at Tennova, he had administrative responsibility for multiple service lines, including the cardiac cath lab, surgical services, support services and diagnostic imaging. While there, he helped lead the hospital to substantial financial improvements and its first bariatric surgery accreditation, and he developed programs for da Vinci robotic surgery and orthopedic robotic surgery.
Shafer has a bachelor's degree in business administration from Florida Gulf Coast University, and he also holds a master's in health administration from the University of Florida.