Thursday, May 9, 2019
Jack Simpson named new president of Ballad Health Foundation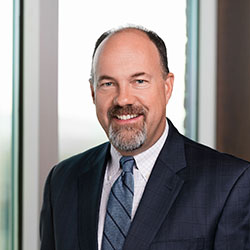 With more than 20 years of experience in philanthropy, Jack Simpson has been selected to serve as Ballad Health Foundation's new president.
Simpson comes to the foundation from Milligan College, where he served most recently as vice president for institutional advancement and previously as the director of the college's major gifts program. He's been with Milligan since 1999.
As president of Ballad Health Foundation, the philanthropic arm of Ballad Health, Simpson will oversee the foundation's operations. He begins his new role on May 13.
"It's clear that Jack has a passion for philanthropy and cultivating health and well-being within the community, and it ties in perfectly with the foundation's purpose, which is to raise funds to provide resources for those in need and advance healthcare excellence," said Todd Norris, senior vice president of community health and system advancement for Ballad Health and the leader to whom the foundation reports. "Jack is a high-caliber fundraising professional with significant programmatic experience and a track record of success. As a resident of Johnson City, he is in tune with the life and culture of our region. Jack will bring energy, passion and commitment to his new role at Ballad Health Foundation."
"Jack is very authentic, and we are extremely excited about the energy and enthusiasm that he will bring to the foundation," said Bob Cantler, board chair of the Ballad Health Foundation Board of Trustees. "He's coming to us with extensive experience and success with very large fundraising initiatives and I know he will be successful coordinating the future capital campaigns for our health system."
During his tenure at Milligan College, Simpson led the college's development staff's efforts to secure $2.5 million in gift support for the college budget annually. He also directed the second phase of "Forward Ever," the largest capital campaign in college history, raising $41.8 million for scholarships and capital projects.
"I regret that Jack Simpson can't be in two places at once because I hate to lose such an important member of our team," said Dr. Bill Greer, president of Milligan College. "However, we deeply value our longstanding partnership with Ballad Health and know that the experience he has gained at Milligan will serve him well in his new role at the foundation, as he seeks to raise funds for the betterment of healthcare in the region. We wish him the very best in his new role."
In 2014, Simpson secured two $1 million gifts for new and enhanced science, technology, engineering, math and health (STEM-H) programs. Under his leadership, Milligan received numerous state and foundation grants, and the college has developed an annual day of giving campaign, which most recently secured over $300,000.
"I am excited about the opportunity to serve our region by improving the overall health of those in Ballad Health's 29-county service area," Simpson said. "I have been continuously impressed with the competence, commitment, compassion and character of Ballad Health's leadership team. I am honored to become a part of that group, and I look forward to making our region a healthier place in which to live, work and play." 
Simpson earned his bachelor's degree in business administration from Milligan College, and his master's degree in philanthropic studies from the Lilly Family School of Philanthropy at Indiana University.
Simpson honed his community development skills as a member of Leadership Kingsport's Class of 2016 and the Tennessee Independent Colleges and Universities Association (TICUA) Executive Leadership Institute's Class of 2018. 
He currently serves as a member of the Sycamore Shoals Hospital board and was a member of the Council for Advancement and Support of Education (CASE) for five years. Within his community, he has been actively involved in the Cub Scouts, served as district advancement chairman for the Boy Scouts of America, and taken on roles within his church as a board member, finance team leader, and in children's ministry.
For more information about Ballad Health Foundation, please visit www.balladhealth.org/foundation.