Monday, Apr 9, 2018
Dickenson Community Hospital's Green Oak Behavioral Health welcomes new nurse practitioner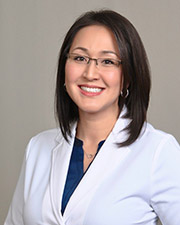 CLINTWOOD, Va. – Green Oak Behavioral Health continues to grow to meet the region's needs.
The inpatient psychiatry unit recently welcomed Shirley Farmer, advanced registered nurse practitioner, as the program's new nurse practitioner.
Green Oak Behavioral Health – which doubled its bed capacity about a year ago –offers services for older adults who are suffering from a wide range of psychiatric conditions, including Alzheimer's disease, dementia, depression, anxiety, disorientation, increased social withdrawal and isolation, suicidal thoughts or behaviors, sleep disturbances and more.
Green Oak opened in October 2015 at Dickenson Community Hospital, and is the only inpatient behavioral health unit in Southwest Virginia specifically for older adults. The unit, in conjunction with Senior Life Solutions – Dickenson Community Hospital's outpatient geriatric behavioral health program – treats patients over the age of 55, and some over the age of 45 (on a case-by-case basis), keeping families that would normally have to travel for these services close to home.
"I'm so excited to join Green Oak and serve the patients in this region," said Farmer. "I believe mental health is extremely important in achieving a higher quality of life. I want to help my patients live their lives to the fullest, and I'll help them however I can."
Farmer, a board certified adult psychiatric nurse practitioner, brings more than eight years of advanced clinical experience and comprehensive psychiatric management to Green Oak Behavioral Health. Farmer earned her Master of Science degree from the University of Tennessee in 2010 after spending five years as a registered nurse.
For information on Dickenson Community Hospital's Green Oak Behavioral Health program, call 276-926-0251 or visit www.BalladHealth.org/green-oak-behavioral-health.
About Dickenson Community Hospital:
Located in Clintwood, Va., Dickenson Community Hospital is a 25-bed not-for-profit hospital that serves patients in Southwest Virginia and Southeastern Kentucky. The hospital offers several specialties and services, including 24/7 emergency care, digital diagnostic imaging, full laboratory services, pulmonary services, and comprehensive inpatient and outpatient behavioral health services for the geriatric population. Dickenson Community Hospital is also home to Dickenson Medical Associates, a 5,700 square foot physician office. Learn more about Dickenson Community Hospital at www.BalladHealth.org/DCH.