Tuesday, May 4, 2021
Ballad Health names Dale Clark vice president and CEO of Smyth County Community Hospital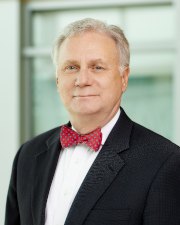 Ballad Health has named experienced healthcare executive, Dale Clark, as vice president and chief executive officer of Smyth County Community Hospital, bringing years of clinical expertise and leadership to the community.
Clark will lead operations and services for the 44-bed acute care hospital and 109-bed nursing care facility, as well as a variety of outreach programs. He succeeds James Tyler, who is retiring from Ballad Health after nearly seven years of service, and three decades in the healthcare industry.
"As a native of Bland County and a long-time resident of Wytheville, I am excited for the opportunity to come home and serve the great people of Smyth and Wythe counties," said Clark, who begins his new role on Sunday, June 6. "Smyth County Community is known for its incredible team and the patient experience it delivers each day. I experienced that care firsthand when my mother was a patient, and it truly is unmatched.
"I am grateful to Ballad Health's leadership and the Smyth County Community board of directors for entrusting me to lead this organization and meet the healthcare needs of this community. I am proud to be able to serve our patients and their loved ones, and I am honored to join this team as we work to deliver the best possible care for our community."
Clark most recently served as the interim vice president and chief executive officer for Wise County hospitals in Ballad Health's Northwest Market, where he led the hospitals through the novel coronavirus (COVID-19) pandemic, provided operational oversight of the ongoing construction of Lee County Community Hospital and oversaw strategic planning for long-term physician recruitment in key areas. He was promoted into that role in 2020, following two years as the chief operating officer for Indian Path Community Hospital.
"Dale has demonstrated great leadership and success in many community hospitals throughout our region," said Chad Couch, MD, president of Ballad Health's Northeast Market, which includes Smyth County Community. "I'm very excited to welcome him back to a community he knows and loves, and I am confident he will find success leading our hospital into the future."
In his new role, Clark will work to ensure Smyth County Community continues to support the population health needs of Marion, Virginia, and its surrounding areas through services such as the Ballad Health Niswonger Children's Network Virtual Urgent Care Clinic, which currently serves 14 schools in Smyth County, as well as the Rural Health Opioid Program, a community-based program, with a mission to improve the quality of life for individuals at risk for opioid use disorder (OUD).
Clark will also work closely with the Smyth County Community Hospital medical staff to ensure the healthcare needs of the community are being met through medical and specialty services including oncology and infusion services, inpatient skilled rehabilitation, surgical services and more.
"Dale is a proven leader who will bring wide-ranging healthcare experience to Smyth County and the surrounding area," said Paul Holcombe, chair of the Smyth County Community Hospital Board of Directors. "He has the innate ability to connect with his team at all levels throughout the organization, driving a culture of safety and excellence."
Smyth County Community relocated to its current site, a newly-built acute care hospital, in 2012 and continues to lead the state in patient experience ratings, receiving the only Five-Star Patient Experience Rating in Virginia by the Centers for Medicare & Medicaid Services (CMS).
"Dale is a longtime resident of Southwest Virginia and holds community needs close to heart," said Dr. Bryan Henley, chief of staff and emergency medicine physician at Smyth County Community. "Having worked with him for several years, I know he is capable, friendly and well respected by everyone. Dale's extensive administrative hospital experience will be a great asset in ensuring we continue to deliver quality care to our community."
Clark has served in many administrative roles for healthcare organizations in the Appalachian Highlands. He sees his new role as a chance for him to give back to the place he knows and serve as an integral part of the community.
"I understand the important role community hospitals have for the citizens of the area, and I am honored to get to be a part of that by leading healthcare in a place I call home," said Clark.
Clark began his medical career as a pharmacist at Wythe County Community Hospital in 1984 after completing his degree at Virginia Commonwealth University in Richmond. In the years that followed, his clinical experience, combined with strong leadership skills, earned him roles in increasing responsibility, eventually serving in a hospital administrative role in 2009.