Monday, Jul 13, 2020
Ballad Health opens Banner Elk Urgent Care on July 13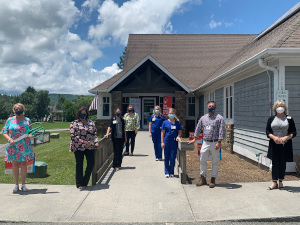 Team members, along with community leaders,
participate in a virtual ribbon cutting
at the new urgent care.
Pursuing its goal to expand access to care in rural communities, Ballad Health officially opened its new urgent care center in Banner Elk, North Carolina, on July 13.
While the health system's hospitals and outpatient services in Tennessee and Virginia currently serve patients from Ashe, Avery, Madison, Mitchell, Watauga and Yancey counties in North Carolina, the opening of the Banner Elk site will be Ballad Health's first service location in the Tar Heel State.
"We're just so excited to be expanding our service into Banner Elk because most residents currently have to drive to Boone, North Carolina, or Elizabethton, Tennessee, to receive urgent care," said KJ Gulson, assistant vice president of operations for Ballad Health Medical Associates.
"We're providing the convenient access they were previously missing. To be able to take care of the needs of the community, that's what Ballad Health is all about." 
In addition to the residents of the Banner Elk community, the new Ballad Health Medical Associates urgent care center offers expanded access to care for the staff and students at nearby Lees-McRae College.
"We hope to be a wonderful resource for Lees-McRae students, staff and faculty. If a student or staff member is feeling under the weather, their school nurse can easily refer them over to our clinic, and we'll be able to see them same day. We'll also be able to treat any sports-related injuries and refer them if needed," said Kevin Marsh, Ballad Health director of urgent care centers.
"The full resources of our community were working together for this effort, and I'm so proud to see it come to fruition," said Dr. Lee King, president of Lees-McRae College. "The partnership of Lees-McRae College and Ballad Health makes this venture possible and brings more resources to the people of Banner Elk and Avery County."
Linda Snodgrass, regional manager of urgent care clinics for Ballad Health, said this project has been in the making for approximately two years. 
"We've had a lot of local groups, like Lees-McRae College, the Linville Ridge and Elk River Country Clubs, and others reach out to Ballad Health and express the need and desire for an urgent care presence in the area. So, we're very happy to make it happen," Snodgrass said. "The Banner Elk community has welcomed us with open arms, and everyone has been gracious and helpful throughout the process."
"We are excited to have the Ballad Health urgent care here in Banner Elk," said Toni Littleton, general manager of Elk River Club. "This will be a great benefit to the local population, seasonal residents, skiers and students. It will definitely fill a gap we've had for a while in healthcare in Avery County."
Located at 108 Park Ave., beside the Banner Elk Pharmacy, the Ballad Health Medical Associates urgent care center offers medical care for minor illnesses and injuries, including colds, migraines, sinus infections, strep throat, minor broken bones, cuts and burns. Flu shots, on-site x-rays and sports physicals are also offered, and walk-in patients are welcome.
The approximately 2,000-square-foot facility consists of three exam rooms, a procedure room and an x-ray suite. It will employ eight full-time employees, including two nurse practitioners, two x-ray technicians, and front-office staff.
The urgent care center is open seven days a week, Monday through Friday, from 8 a.m. to 8 p.m., and Sunday and Saturday, from 8 a.m. to 6 p.m. The center accepts most major insurance carriers, and it offers a discount to those without insurance.