Tuesday, Apr 13, 2021
Ballad Health taps two experienced healthcare leaders to lead operations in Wise, Lee and Dickenson counties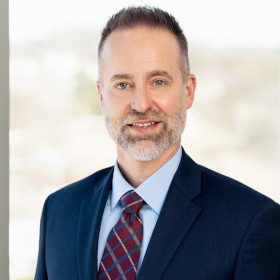 Shannon Showalter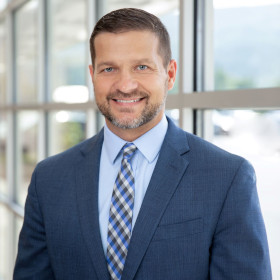 Mitch Kennedy
As Ballad Health re-imagines and enhances rural healthcare, including the re-opening of Lee County Community Hospital, the health system has announced a new leadership structure in Southwest Virginia to implement these efforts.
Effective Monday, April 26, Shannon Showalter will assume his new role as chief executive officer for all Ballad Health operations in Wise, Lee and Dickenson counties. Additionally, Mitch Kennedy, who served as chief operating officer for Ballad Health's Wise County market, has been named administrator for Lonesome Pine Hospital and the future Lee County Community Hospital, a role he's filled on an interim basis since October 2020.
"Since its inception, Ballad Health has been pursuing a bold vision for rural healthcare, and a main aspect of that is creating an innovative approach to our services in Southwest Virginia," said Lindy White, president of Ballad Health's Northwest Market, which includes Wise, Lee and Dickenson counties.
"We're thrilled to welcome Shannon to our team, and we're grateful to Mitch for continuing to build and grow his role with us. With two great leaders at their helms, the futures of these hospitals – and the futures of the communities they serve – look very bright."
Prior to joining Ballad Health, Showalter served as chief operating officer and chief ethics/compliance officer for Clinch Valley Medical Center, a LifePoint Quality Affiliate hospital in Richlands, Virginia. During his tenure there, he upheld the hospital's financial health and high-quality care standards, and he collaborated on growth plans that included bringing new medical services to the community and earning accreditations in cardiopulmonary, sleep, mammography, radiology and chest pain services. He also oversaw initiatives to enhance access, expand market share and increase the culture of safety and engagement.
"Throughout my career, I've been committed to improving lives, inspiring others and strengthening rural communities," said Showalter, who has a master's degree in physical therapy, master's degree in business administration and is a board-certified healthcare executive. "Our community hospitals, especially in rural areas such as Wise and Lee counties, often have major impacts on people's lives, and as healthcare leaders, it's our responsibility to ensure those facilities are outstanding places to work, receive care and entrust the health of families and loved ones.
"In the days and years to come, I look forward to working with our teams in the hospitals and partners in our communities to bring a number of new and enhanced services to the area, such as expanding our award-winning inpatient rehabilitation program, expanding access to specialty services, bolstering physician recruitment, introducing new behavioral health services and continuing to invest in the Ballad Health Niswonger Children's Network."
Earlier in his career, Showalter served as the chief operation officer and senior director of operations for Carilion Clinic's New River Medical Center, Giles Community Hospital and Tazewell Community Hospital. There, Showalter led the design of a $7.5 million operating room renovation; three outpatient sports medicine clinics; CT and MRI replacement initiatives; central sterile renovations; and outpatient infusion center remodeling. He also has focused on quality throughout his career, having served as an examiner for the Malcolm Baldrige National Quality Award and has achieved Lean Healthcare and patient safety certifications.
"In meeting with Shannon, the Wise County Hospital Board of Directors saw someone who was passionate, innovative and truly driven to improve lives in Southwest Virginia," said Jibber Ward, president of the Wise County Hospital Board of Directors. "Shannon, Mitch, Lindy and the rest of Ballad Health's leadership truly share a vision with our community members about what healthcare should look like in Wise, Dickenson and Lee counties, and they've engaged with our board of directors as we work together to achieve those goals."
In his new role, Showalter will work hand-in-hand with Kennedy and other Ballad Health leaders, along with the Lonesome Pine Hospital Board planning committee, Wise County Visioning Committee and the Lee County Hospital Authority to support expansion, growth, service line integration and expansions in primary care in Wise, Lee and Dickenson counties – including the opening of Lee County Community Hospital this summer.
"I'm honored and humbled Ballad Health's leadership team and our board of directors, as well as the team members and physicians in our Wise and Lee county facilities, have placed their trust in me as we move to the future," said Kennedy, a registered nurse and former surgical service tech. "We're embracing an innovative approach to healthcare services in these areas, one that will serve our communities well in the coming years.
"Ballad Health is committed to doing everything possible to make life in the Appalachian Highlands even better. By shaping healthcare to fit the needs of our communities, we can protect our community members and improve their health and well-being, and through that, bolster the economy and quality of life for everyone in our hospitals' surrounding areas."
Kennedy worked in hands-on patient roles at Norton Community Hospital, Southwest Virginia Orthopedics and Holston Valley Medical Center before moving into a leadership role as the surgical services director at Norton Community. From there, he progressed through roles of increasing responsibility, eventually becoming the assistant administrator and chief nursing officer for Norton Community and Dickenson Community Hospital.
"It is crucial that our patient-facing team members and physicians have implicit trust and understanding between them and administration," said Dr. Michael Wheatley, president of the Wise County medical staff. "With Shannon's experience leading healthcare organizations, and Mitch's firsthand experiences on the front lines, we know we're creating a collaborative environment that develops more robust, effective and efficient healthcare, with greater access and new services, for Southwest Virginia and beyond."
In addition to a nursing degree, Kennedy also holds a master's degree in business administration from King University, and he is a recipient of the Scott and Nikki Niswonger Servant's Heart Award, which is Ballad Health's highest honor.
"As we developed the leadership structure for our Southwest Virginia hospitals, we knew it was paramount to have leaders in place who have experience in and passion for these communities," White said. "We all care deeply about this region, and our genuine affection for the people here is what guides us as we work together to enthusiastically and insightfully progress in our plans."