Image

Image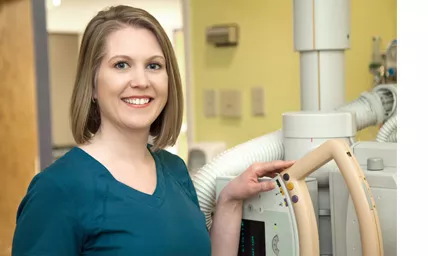 Imaging & Radiology
Overview
When your doctor needs more information about your body to make a diagnosis or treat a medical problem, you can schedule diagnostic testing at a Ballad Health imaging center, clinic or hospital.
You'll work with caring technologists who are available to answer your questions and help you feel comfortable about your procedure.
Appointments are available the same day your doctor orders them, so you'll always get timely care at a convenient location.
Accredited, high-quality imaging 
All our Ballad Health imaging centers are accredited by the American College of Radiology (ACR).
This means that all Ballad Health patients benefit from: 
Best practices to ensure that tests are performed the right way with the lowest dose of radiation possible
Accurate results 
Highly qualified imaging staff 
Advanced technology 
What to expect
Diagnostic imaging services and treatments
At Ballad Health, you can find any test or scan you need, including:
Specialized outpatient diagnostic tests 
Some of our diagnostic imaging tests are designed for certain areas of the body to identify specific diseases or conditions. 
Breast imaging – Uses imaging services to assist your doctor in detecting and fighting breast cancer early 
Lung cancer screening – Utilizes low-dose CT technology to recognize signs of lung cancer in its more treatable stages 
Lung nodules (lesions) – Uses advanced detection technology to catch lung cancer and lung disease quickly, even before symptoms are evident 
Scanning safely with low-dose technology 
Your Ballad Health diagnostic imaging team will recommend only the most helpful imaging tests and will always use the lowest amount of radiation to produce the best possible images. 
Our teams have access to effective, up-to-date technology that let us significantly reduce radiation doses, especially for children. 
Many of our medical staff throughout our Ballad Health imaging locations have also taken the Image Gently and Image Wisely pledges to protect patients by using no more radiation than needed.  
Fast, easy access to your results 
At the end of the day, we want you to receive the care you need quickly and efficiently. 
Most Ballad Health diagnostic locations use digital imaging technology that helps you get your test results quicker than traditional film images. 
Our staff can store digital images more easily and securely, and your doctor can see them at any time – from any location. 
Ready to schedule your examination? 
Do you need to schedule diagnostic testing? 
All of our Ballad Health imaging centers, clinics and hospitals are listed below – find the location that's most convenient for you.