Safe While Staying Healthy and Well

Amid the coronavirus disease 2019 (COVID-19) pandemic, many of you chose to forego healthcare services, which is completely understandable. There's no doubt everyone's cooperation and commitment to staying home and physically distancing helped contain this potentially deadly virus.
But now, since the Appalachian Highlands has experienced a significant flattening of the curve, you can safely resume your normal healthcare services – and Ballad Health has created new options and processes that will forever improve and safeguard your patient journey.
---
IMPORTANT NOTICE:
If you're experiencing an emergency, call 911 or visit your closest hospital emergency department immediately.
It's important to be cautious and limit your potential exposure to COVID-19, but it's more important to seek care when you need it.
Common conditions, if untreated, can lead to the need for major surgeries, lengthy hospital stays and even death.
By taking immediate action, you can get better faster, limit long-term damage to your health and save your own life.
---
When it's time for your routine and preventive care, you can trust us to keep you safe.
Even as we embrace the return of patients to our clinics and offices, we're still adhering to physical distancing guidelines with:
Carefully designed waiting rooms – which provide ample space between people
Staggered appointment times – to reduce crowded waiting rooms
Virtual waiting rooms – so you can remain in your car until your appointment time, instead of staying in the waiting room
Patient safeguards
To further protect the safety of our patients and team members, Ballad Health has implemented a host of precaution measures:
Ballad Health team members are expected to wear masks at all times when they're at work. Our patient care team members also have access to sterile and enhanced protective equipment.
Patients should bring their own cloth face covering, such as a handmade mask, bandana or buff. Please ensure children can easily breathe through their mask.*
Everyone is screened for potential illness as soon as they come through our door – patients, visitors, team members and physicians.
Every public and patient care area and surface is frequently cleaned and disinfected, and we've set up hand sanitization stations throughout our facilities.
*Note: Children younger than 2 should not wear a mask
Connected Care
Connected Care is Ballad Health's comprehensive telehealth program, which uses a variety of technologies to connect you with our providers in real time, regardless of your location.
Telemedicine options include:
Virtual urgent care – Access to on-demand care for illnesses, such as the cold or flu*; ear and eye infections; headaches; sinus infections and strep throat; sprains and strains; and UTIs
Pediatrics – More than 108 schools are currently connected to Ballad Health via telehealth, providing care and diagnostics that keep children healthier and in the classroom. The health system also utilizes telehealth in each of its emergency departments to connect with pediatric specialists at Niswonger Children's Hospital.
Outpatient care – Telehealth options span into multiple physician specialties, which means patients in remote and rural areas can connect with Ballad Health providers for an array of needs, ranging from diabetes and endocrinology care to high-level cardiology and cancer services.
Connected Care makes it possible for us to provide you with easier, more convenient care. It reduces your wait time, eliminates the need for travel and makes it even faster and simpler for you to get the healthcare you need.
The attached guide also gives you an overview of these enhancements, all of which are designed to improve your experience.
Thank you for your attention, support and trust during these unprecedented times. We have full confidence and faith in our ability to provide your care in a safe, beneficial environment, and we look forward to welcoming you soon.
#SafeWithUs resources for hospitals
Ballad Health has created the following public service announcement (PSA)-style campaign materials for rural, not-for-profit and non-profit hospitals and health systems to download and customize – at no charge.
Free resources available
8.5"x11" Remaining Safe flier
8.5"x11" Staying Healthy flier
Face covering sign (multiple sizes)
#SafeWithUs postcard
8.5"x11" COVID-19 Response flier
8.5"x11" Wearing a Mask flier
8.5"x11" Probability of Contagion flier
Social media graphics
Flier example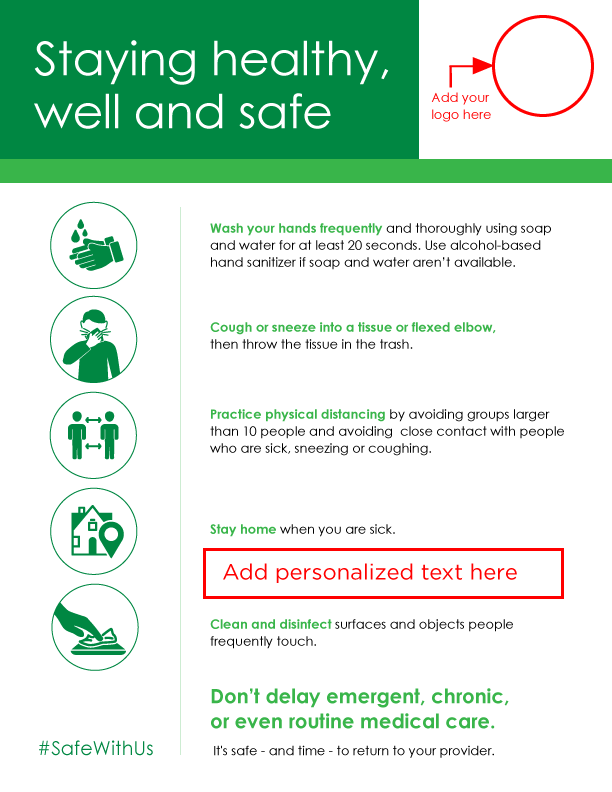 Request these free resources here