Overview
A Department of Indian Path Community Hospital
Ballad Health Cancer Care – Kingsport offers radiation and medical oncology treatment programs, as well as full-service diagnostic and surgical services.
A team of experienced providers, nurses, therapists and other healthcare professionals, back our oncologists during your treatment. Our cancer navigators are here to guide patients through every step of their treatment and provide additional support services.
To view a map [PDF download] of where the cancer center is located on the Indian Path campus, please click the thumbnail image.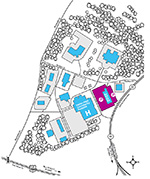 Medical oncology
Our medical oncologists utilize every available resource to give patients the professional and personal attention they need and deserve. Our entire team is committed to doing whatever it takes to guide patients through the physical, mental and emotional challenges of their treatment.
Our medical oncologists
Radiation oncology
Our radiation oncologists have many years of clinical experience and possess the sophisticated tools and clinical judgment to offer the best care. Our goal is to always determine and deliver the best available treatment for our patients.
Our radiation oncologists
Learn more
Learn more about Ballad Health's cancer care services.