6 Reasons to Join Ballad Health's Nursing Team
At Ballad Health, we're dedicated to improving the lives of not only the people we serve – but also those who choose to work with us.
We want to ensure our team members feel heard and that their careers can thrive. When you're hired, we're making an investment in you and your future. We're here to support you in your growth, whether that's continuing nursing education (CNE) or professional designation.
But you don't have to ask us. Here are what our nurses are saying about working at Ballad Health...

1. Leadership and professional development opportunities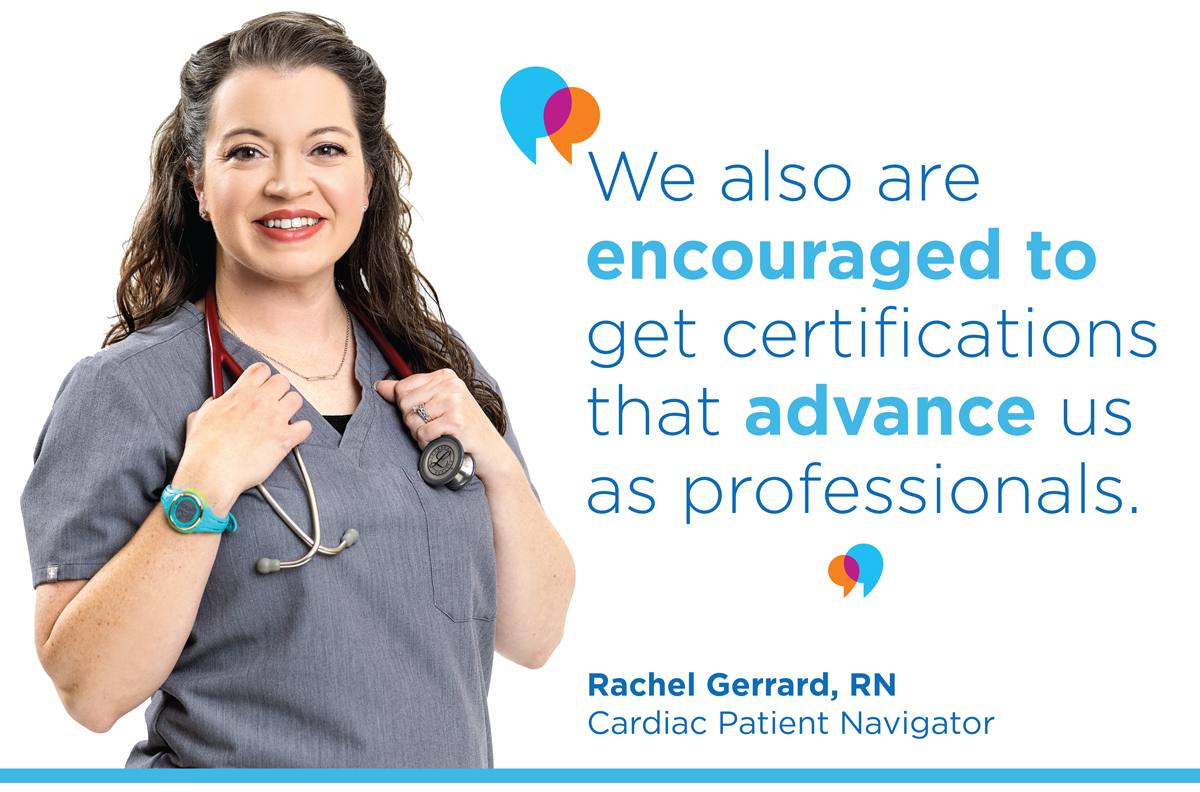 "There are definitely opportunities to grow here at Ballad Health…
"I've been involved in committees and feel like my voice is heard and my opinion matters. You can do extra work through our PACE (Professional Achievement of Clinical Excellence) program and get extra education, be involved in process improvement, and do volunteer work or other activities that teach you to be a better professional. We get financial rewards for doing so.
"We also are encouraged to get certifications that advance us as professionals." – Rachel Gerrard, RN, Cardiac Patient Navigator
Ballad Health offers a wide range of advancement and growth opportunities for our clinical staff, including continuing nursing education and financial incentives for further certification.
Learn more about how to continue your professional growth at Ballad Health.
2. Competitive pay and benefits package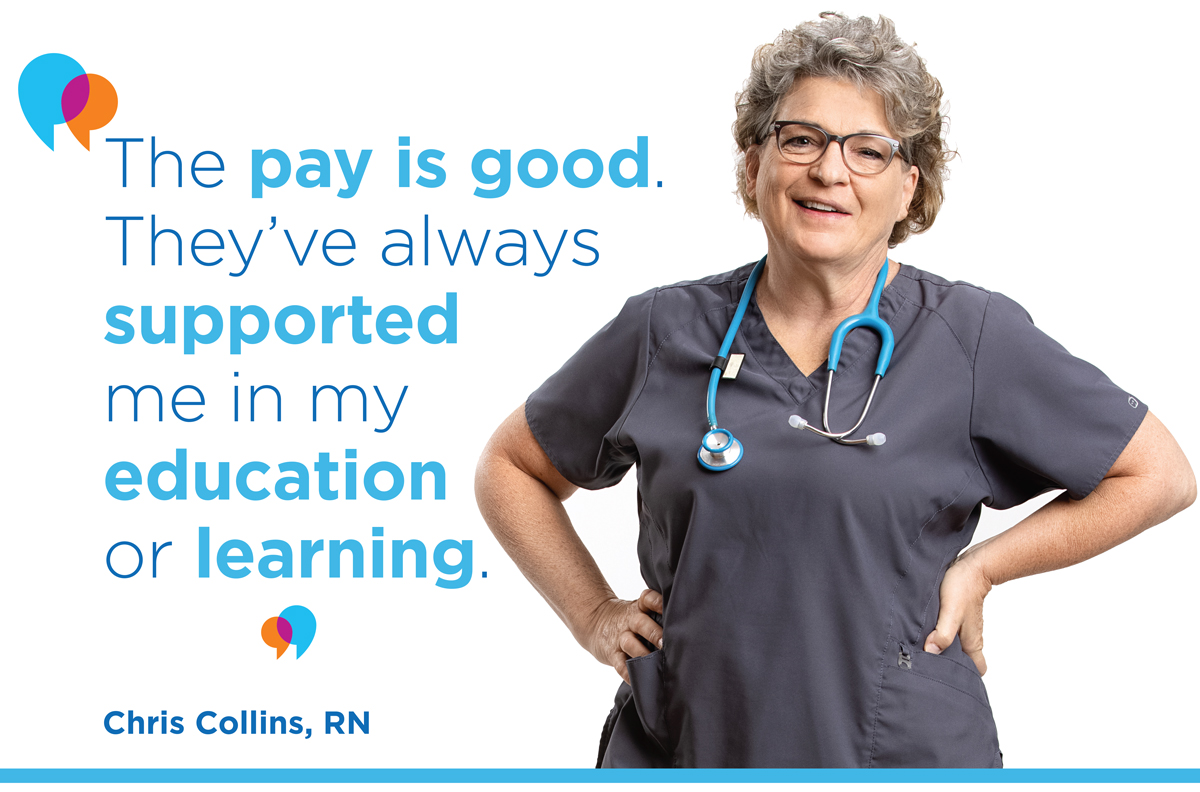 "One of the benefits for me that has been important through the 38 years I've worked here is flexible scheduling. The pay is good. They've always supported me in my education or learning, and that's very important to me." – Chris Collins, RN
We provide a generous benefits package for our team members, which includes:
A choice of medical, dental and vision insurance packages
401k program with employer matching
Insurance options for life, disability, short-term and long-term care
Adoption assistance
Tuition assistance
Paid time off and medical leave
Wellness program
Employee assistance program.
3. Support from team members and leadership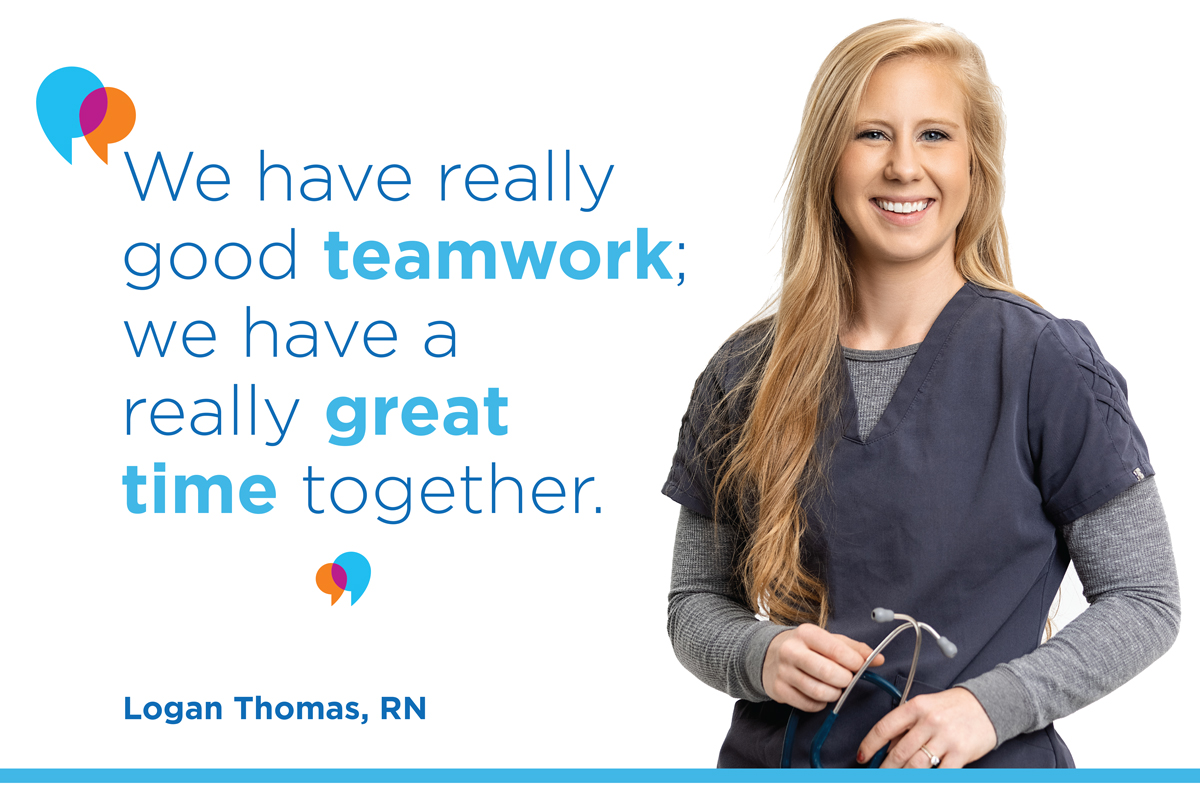 "We have really good teamwork; we have a really great time together." – Logan Thomas, RN
We want you to feel supported at Ballad Health, which is why we emphasize a positive and caring environment for our team members.
At Ballad Health, we treat each other like family.
"My coworkers and I, we really try to help each other out, look out for each other. If there's an issue, you never have to look far for somebody to have your back, the patient's back and help the family." – Rachel Gerrard, RN
We're proud that Forbes Magazine named our organization as one of the "best employers for diversity" in the United States in 2020. It shows our commitment to offering a welcoming environment for all employees.
4. We're nationally recognized for pioneering areas of healthcare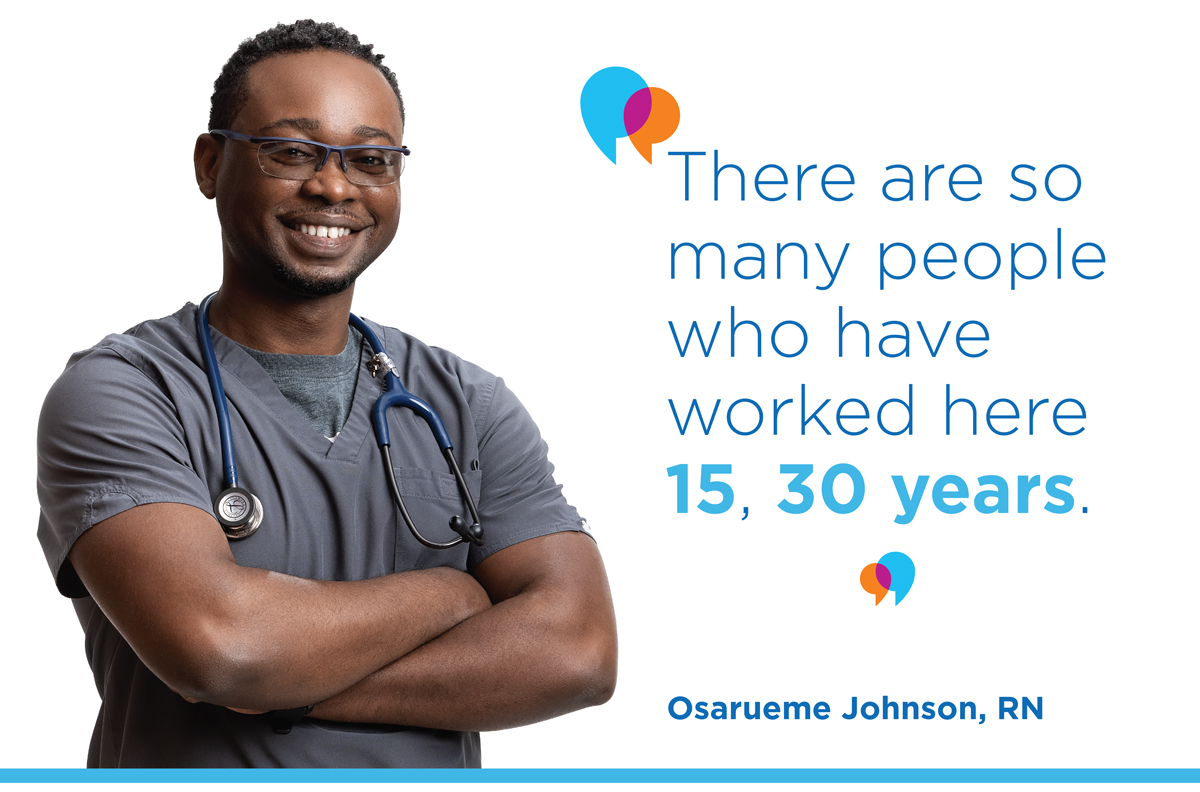 "You can compare Ballad Health to any other top facility in the nation… We have Trauma Level 1, 2 and 3 facilities. There are so many resources. There are so many people who have worked here 15, 30 years." – Osarueme Johnson, RN
Ballad Health is re-thinking what's expected of rural healthcare by investing in system-wide research programs and advanced clinical technology.
We're always innovating to reach higher standards of care for our communities – such as our development of the Niswonger Children's Network or investment in cutting-edge robotic surgery equipment and training.
We've been nationally recognized for excellence, and we continue to foster partnerships with other noted health institutions across America.
5. Low cost of living and beautiful atmosphere
"It's a good place to live. It's a good place to play. I couldn't ask for better. It's a really special place to work. The quality of life here is terrific. We are in the mountains, but we have a lot of metropolitan kinds of things to do here." – Taylor Moreck, RN
"There is plenty, plenty to do! Lots of hiking and outdoor activities. Then there's the Appalachian Trail (called the "A.T." around here), lots of places to go fishing, kayaking, boating. There are multiple parks, creeks, rivers and lakes. There's also a large community of music – concerts and festivals like Rhythm and Roots. And, of course, there's NASCAR." – Chandler Daugherty, RN
Ballad Health is nested in the Appalachian Highlands – a beautiful landscape in Northeast Tennessee and Southwest Virginia.
Though the cost of living is low, our communities continue to thrive and grow each year. The region's abundance of outdoor activities, festivals and artisanry make the Appalachian Highlands the perfect place to call home.
"My family and I travel a lot. This area is like a hub that connects to North Carolina, South Carolina, Georgia and Florida. Then you go the other way and you have Virginia, New Jersey, New York. We have an airport which is easy travel to Charlotte and Atlanta." – Osarueme Johnson, RN
6. We need you
Ballad Health needs individuals who are driven to serve and dedicated to caring for those who need it most.
"I have found nursing here in the Appalachian region is more of mission field. I feel like we can reach into the patient's life a little more than in other places. I can be more help emotionally, spiritually, and even with the extra help at home they need…
"Here we have a lot of tobacco use, coal miners with black lung. We have patients who live on a mountain or in a hollow alone so access to healthcare is limited. I've worked as a nurse in other states and this position is very different. It gives me a much more personal connection with my patients. I feel much closer to them and feel like they can depend on and call on me." – Rachel Gerrard, RN
Our system serves a diverse population of patients – many of which are underserved. Our mission is to improve lives in our region through clinical practice and community engagement.
Apply now
Apply for an open registered nurse, licensed practical nurse or certified nursing assistant position by clicking the link below.
If you're a nursing student, you can learn more about our student program and resources, including paid internships, scholarships and loan assistance.
For questions about our nursing program, please contact one of our recruiters at recruitment@balladhealth.org or call (423) 302-3299.