Marie Cope
2019 Servant's Heart Award Winner
Healing people through pet therapy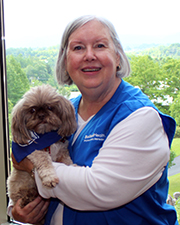 Marie Cope and her Shih Tzu, Lucy, are regular visitors to all Ballad Health's Washington County, Tennessee, hospitals as part of Ballad Health's pet therapy program. Marie began volunteering her skills and time to the hospitals of Johnson City in 2005, and she and Lucy are among of the most well-known members of the pet therapy program.
She and Lucy regularly visit Johnson City Medical Center, Franklin Woods Community Hospital, Niswonger Children's Hospital, Woodridge Hospital and Princeton Transitional Care Unit. In addition, Marie has been instrumental in training new pet therapy volunteers and establishing pet therapy services at Woodridge.
Marie and Lucy have also participated in the Niswonger Children's Hospital Spooky Trail event at Halloween, aimed at lifting the spirits of kids in the hospital. She makes costumes for Lucy to wear to the event.
Marie is also part of a knitting group at her church that produces beautiful prayer shawls, hats and toboggans for chemotherapy patients at Johnson City Medical Center and the JCMC Regional Cancer Center. And she knits baby caps for newborns at Niswonger Children's Hospital and the Family Birthing Centers.
Just from pet therapy and knitting, Marie makes a tremendous impact on the lives of many of Ballad Health's patients and their families, but she does so much more than that, both in the hospitals and out in the community.
Marie loves to teach and believes everyone should be trained in CPR and first aid in case of an emergency. So, over the last seven years, she has helped teach those skills to others. She also volunteers to assist the Parish Nursing program when they are called to precept students from Milligan College's parish nursing courses.
Marie is also involved in Relay For Life and Bark For Life, has coordinated health fairs and has assisted in her church through an ESL (English as a Second Language) ministry. She has also applied for and received grants for money to be used through her church. The latest is a meals ministry that prepares and delivers food for the elderly.
Marie's life is centered around helping others. Through her volunteering with Ballad Health, and through many other things she does, she makes a huge impact on the lives and health of others and is truly a hero to those she serves.
Return to the Scott and Nikki Niswonger Servant's Heart Award page