Kevin Williams
2018 Servant's Heart Award Winner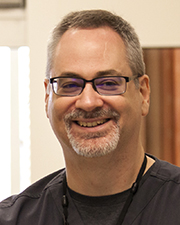 For Kevin Williams, service isn't an action, it's the very core of who he is. A shift leader in the hospital's outpatient observation unit, Kevin consistently puts the needs of others first, while maintaining a positive and encouraging attitude.
 Kevin has fostered a stronger and happier team through his daily acts of kindness, from ordering pizza for the unit to taking on extra duties to relieve his team members' workloads. Everyone in outpatient observation knows they can count on Kevin to make the shift better, no matter what.
 Kevin also builds lasting connections with his patients. They often remember him fondly, and many ask for him if they have return visits. He's their advocate, and he will do anything to make them comfortable.
 Recently, a patient on cardiac telemetry, who only had his hospital gown to wear, needed a pair of pants. Kevin went to a store after his shift and purchased a new pair with his own money for the patient.
 Kevin's servant's heart extends outside the hospital, as well. Through his church, he participates in Handyman Ministry, a service primarily for single or widowed women or the elderly who need repairs to their homes. His construction and carpentry skills also extend to any friends or team members who need help with projects, and he's contributed hundreds of hours to habitat for humanity. In fact, he volunteers with habitat in the hours before work and takes pto days to assist on houses.
 Additionally, Kevin quietly helps people any time they're in need, anonymously sending money or gift cards. Last Christmas, he even purchased a tree for a family at his church who couldn't afford one.
At work and every day, Kevin is a force for positivity and enthusiasm.
Our current Servant's Heart Award winners
Our 2018 Servant's Heart Award winners