Frances Adams
2018 Servant's Heart Award Winner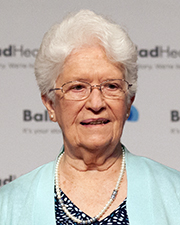 For nearly 10 years – and more than 6,700 hours – Frances Adams has been a welcoming face and warm presence at Indian Path Medical Center in Kingsport.
 As a hospital volunteer, Frances has served in the hospital's gift shoppe and its health fairs. She's also held leadership roles on the auxiliary boards for both Indian Path and the former Mountain States Health Alliance. In both places, Frances manages financial and ordering processes for the volunteer services department – and much more.
 Frances has created a cheerful place where everyone is welcomed with a smile and friendly greeting, and her genuinely caring attitude makes it clear the gift shoppe is a healing place, where you can clear your mind and get refreshed. With Frances at the helm, the gift shoppe is the go-to spot at Indian Path for people to relieve anxieties and realign their focus.
 Even though Frances doesn't work in a clinical setting, she's undoubtedly part of the care team. Every day, she exhibits true compassion and awareness for the needs of others. Frances empathizes with team members and visitors who need a diversion. She listens if they want to share and talk about other things, their families or anything uplifting. Frances will also spend a great deal of time with a customer shopping for a patient, to be certain the perfect gift is chosen.
 Not only is Frances a guiding light to gift shoppe patrons, but she's a mentor and leader among other volunteers. Frances can always be counted on to offer sound advice in a humble and unassuming way, and she demonstrates the loyalty and dedication of a true volunteer. She fosters a sense of teamwork and cooperation, both in formal and informal roles. She has even lent her beautiful singing voice at volunteer events and Indian Path medical center events.
 Frances makes a difference in the lives of patients, families and team members by providing a comforting, peaceful and supportive presence.
Our current Servant's Heart Award winners
Our 2018 Servant's Heart Award winners