Dr. Marta Wayt, DO
2018 Servant's Heart Award Winner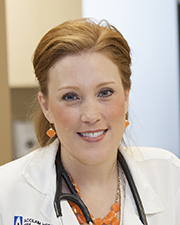 Dr. Marta Wayt is a champion for all her patients, but she has a special passion for treating the underserved. An internist, she is a member of Holston Valley Medical Center's staff and serves as regional medical director with Wellmont Medical Associates. Outside of her work in those areas, Dr. Wayt has channeled her expertise and compassion into her service as volunteer medical director of Providence Medical Clinic of Kingsport, which provides free healthcare to people in need.
This clinic was formed in 2010 with assistance from First Baptist Church in Kingsport. Dr. Wayt, a church member, was part of the visioning committee and has helped the clinic grow from two or three volunteer physicians, staffing limited shifts, to 25 or 30 physicians covering about 35 hours per week. Services have also grown over the years.
In 2012, she became regional medical director and a board member for Wellmont Medical Associates but remains dedicated to serving the Providence Clinic. She still has time to see patients there on Thursday evenings and receives daily calls from the clinic about test results and higher-level decisions.
Dr. Wayt faithfully serves all her patients. She focuses on listening to their concerns and is always available. She'll even take calls about a patient's needs while she's on vacation. She dedication to her patients shows her servant's heart.
Our current Servant's Heart Award winners
Our 2018 Servant's Heart Award winners