Charlie Lawson
2018 Servant's Heart Award Winner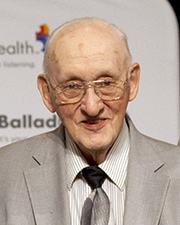 Charlie Lawson uses music and kindness to ease the worries of visitors at Bristol Regional Medical Center. The 89-year-old volunteer is a talented musician who plays the piano in the hospital lobby each weekday for at least an hour. Many patients, family members and hospital staff plan their day around Charlie's beautiful music.
 Although Charlie struggles with arthritis and can sometimes hardly get from his car to the building, he is incredibly faithful to his duties. His music is calming and touches many hearts, and you often see tears shed as folks listen to him play.
 Charlie always takes time to chat with those around him and to listen to them. He makes it a point to ask his listeners what their favorite tunes are, and he's rarely stumped by a request.
 There are countless examples of how his service impacts others. One that was particularly touching involved a husband and wife who were listening to Charlie play, and the husband was in a wheelchair due to Parkinson's disease. The wife told Charlie about her husband's condition. Then, as Charlie played their favorite song, the gentleman reached over to his wife and offered her his hand to dance. His feeble body could hardly get out of the wheelchair, but they slow-danced as Charlie played. Tears rolled down his wife's cheeks. She later said they had never danced before.
 Charlie even dedicated his time and talent to make a CD of his most requested songs for the Bristol Regional volunteer auxiliary as a fundraiser for patient care needs. He also serves as the organist at his church, Anderson Street United Methodist.
 Many people have commented on what a difference it makes to walk into a hospital scared, worried and tired, and then hear such beautiful, soothing music from Charlie. Spirits are lifted immediately. The world needs more Charlies. He is such a great blessing to us all.
Our current Servant's Heart Award winners
Our 2018 Servant's Heart Award winners