Bob Isaac
2019 Servant's Heart Award Winner
Meeting needs at the cancer center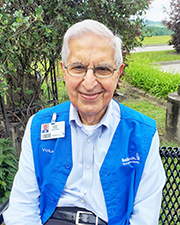 Bob Isaac volunteers at the Southwest Virginia Cancer Center. As long as Bob's around, no patient, visitor or team member at the cancer center is left in want of anything.
Several years ago, Bob retired as a business owner in Norton. But, like many of you in this room tonight, retirement didn't slow him down! In 2008, Bob became a Ballad Health volunteer and immediately went to work.
After talking with several patients, Bob realized many of them are weak from their treatment, not to mention from their illness. For those patients, making a lunch or going out to eat requires more energy than they can muster.
So, Bob reached out into the community. He met with various restaurants and food businesses in Wise County to explain the situation and see what options were available. The response was overwhelming – dozens of local businesses started supplying the Southwest Virginia Cancer Center with hot, nutritious lunches.
To this day, Bob puts in the orders for those lunches every day, and he ensures the businesses receive recognition by thanking them in our local papers and presenting them with certificates of appreciation every year.
Bob has also recognized other difficulties our patients face, such as financial challenges. Looking for ways to ease their burden, Bob established a new patient assistance fund. He led the way for fundraising, holding turtle races, T-shirt sales and breast cancer awareness walks.
The money raised from these events helps patients cover various expenses, including groceries and utilities. The fund also provides gas cards to help with patients' travel expenses to and from the center.
When he's at the Southwest Virginia Cancer Center, Bob is a hands-on volunteer who can be found keeping both the patient kitchen and team member breakroom in order, well-stocked and clean. He also insists on helping put away stocks and supplies, and he goes above and beyond by breaking down each cardboard box, tying them together with string and carting them off to the landfill himself to ensure they are recycled.
He's also a warm, supportive presence for our patients and team members. Bob is a great listener, and he always takes time to ask everyone how their days are going or to get their input on current events and the news. He also checks in on patients' needs and wastes no time getting them warm blankets, headphones or anything else they need.
Bob also once brought his camera to the cancer center and took pictures of our team members, then printed them out and surprised the team with a shadowbox, which they have on display in the chemo suite. Patients, visitors and team members walk by and view it often.
Bob's work ethic is second to none, especially for someone who's technically retired!
Return to the Scott and Nikki Niswonger Servant's Heart Award page