Pay My Greeneville Bill
How to pay your Greeneville, Laughlin, and Takoma bill
Effective April 1, 2019, Laughlin Memorial Hospital and Takoma Regional Hospital will be named Greeneville Community Hospital and will operate with two campuses: Greeneville Community Hospital East (previously Laughlin Memorial Hospital) and Greeneville Community Hospital West (previously Takoma Regional Hospital).
During this time of transition we have divided the online payments for the Greeneville area based on the April 1 date. Please scroll down to find the section that best describes the statement you received. 
If you can't find what you are looking for, we are here to help. Please go to the bottom of the page to find out how to contact us and we will be glad to assist you.
Billing chat
Have a question about your bill? We're here to help. Use our billing chat to reach out to a live agent Monday – Friday, 8:30 – 4:30.
Laughlin and Takoma bill payment
For services provided before April 1
If you received a statement from Laughlin Memorial, Laughlin Medical Group, Takoma Regional, or Takoma Medical Associates for services provided before April 1, 2019, please select the appropriate button below.
Greenville Community Hospital and Ballad Health Medical Associate bill payment
For services provided after April 1
If you received a statement from Greeneville Community Hospital or Ballad Health Medical Associates for services provided after April 1, 2019, please select the statement below.

If your bill has a
GUARANTOR NUMBER
at the top, click here: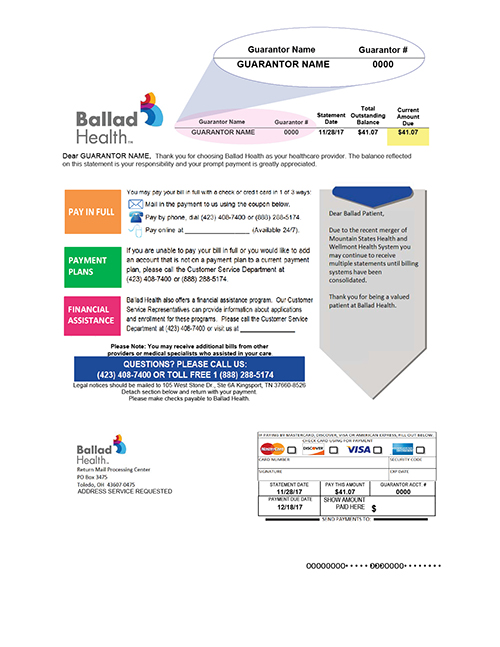 ---
Experience an error trying to pay online?
We're currently working to update our online payment process.
If you experience an error, please call us at one of the numbers listed below so we can assist you directly.
Pay by phone
You can also pay by phone at (423) 408-7400 between 8 a.m. and 4:30 p.m., Monday through Friday.
Options for paying your bill
With rising costs of insurance premiums, larger co-pays and higher deductibles, Ballad Health recognizes that many of our patients will not be able to fully satisfy their financial obligations at the time services are rendered.
We offer a variety of options to help patients meet their hospital out-of-pocket expenses.
These options are summarized below, and we have staff on-site and in our Corporate Business Office who can assist you with selecting the best option.
Credit card payment
We accept Visa, MasterCard, Discover and American Express.
Payment plan options
Payment arrangements are available for account balances greater than $50. Account balance must be paid off within 18 months. A minimum monthly payment of $50 is required.
No interest is assessed on these plans. However, establishment of the payment plan must be coordinated with the Corporate Business Office and payments must be made each month to avoid account delinquency and further collections effort.
Medicaid eligibility
If you feel you qualify for state benefits, we have on-site representatives for evaluations and enrollment assistance.
Financial assistance
If your income level meets required guidelines and can be substantiated with our financial assessment tool, you may qualify for partial or full charity write-off.
Determination of assistance is made after your visit.
You can find more information about financial assistance here.
Contact us
To learn more or for help, please call (423) 408-7400.
If you have received a statement from a DIFFERENT hospital or clinical location please choose your statement here.