Lynn Monahan
2020 Servant's Heart Award Winner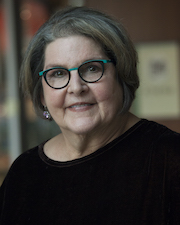 A retired nurse, Lynn Monahan has spent more than 40 years as a volunteer at Johnston Memorial Hospital. She has become one of the volunteer team's leaders and developed a reputation as someone who is kind, compassionate and dedicated to helping others.
Lynn has managed the hospital's gift shop for decades, accommodating team members and physicians for specially requested items for the store and taking extra care and effort with the gift shop display and inventory. She has great compassion for her fellow volunteers, delivering meals when they are sick, hosting meals and events for the group and helping them with transportation to and from the hospital.
One of Lynn's team members wrote in her nomination submission that Lynn doesn't just work a shift at the gift shop: "Her purpose and outlook as a volunteer is much more than that, which is what truly sets her apart and allows her to make the impact she does on so many. … When anyone describes Lynn, they talk about her kindness, her devoted work ethic and her genuine desire to help our patients and visitors."
Lynn was the driving force in Johnston Memorial acquiring its first-ever bloodmobile, helping raise more than $40,000. She is a dedicated blood donor and strong advocate for blood donor services. On at least one occasion, she drove a patient's family member to a local retail store to get some badly needed items that weren't stocked in the gift shop, after the family found out their loved one would unexpectedly be in the hospital for several more days. "I am sure there are many acts and stories like this that we will never know about," her nominator wrote.
Lynn has served as a state officer for the Virginia Association of Healthcare Auxiliaries and Volunteers and has shared her experience and expertise by speaking at state and local conferences and acting as a consultant to start up other hospital gift shops in our region. She is a trusted board member of the Auxiliary to Johnston Memorial Hospital.
"Lynn's life of giving has never been about recognition or praise," her nomination stated. "She is always willing to accept any challenge and find a way. She is the epitome of what the Servant's Heart Award represents."
Congratulations to Lynn on the Servant's Heart Award and thank you for your service!