Dr. Linda Monteith
2020 Servant's Heart Award Winner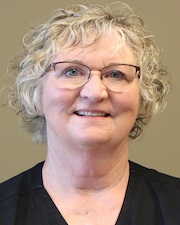 Linda Monteith, MD, works as an emergency room physician at Franklin Woods Community Hospital. Her nomination for the Servant's Heart Award included numerous submissions from her fellow team members about her compassionate care for patients and their families and about how deeply she cares for the ER staff.
The nominations stated: "Her presence in the department elevates everyone – both patients and staff.  She is always willing to help, go the extra mile and does so with a smile."
Dr. Monteith takes extra time to explain the diagnosis and treatment to patients and routinely makes follow-up calls to them. To help ease the angst of a young patient with developmental disabilities who was holding in the ED but had no family to be with her, Dr. Monteith purchased the patient a tablet and presented it to her the next day to keep her occupied. The young patient was thrilled with the gift. She is an animal lover, and if a patient is concerned about how their pets will be cared for during the hospital stay Dr. Monteith always makes sure they have resources available.
Dr. Monteith is just as patient and thoughtful with her team members, and she often buys the whole team lunch. Her servant's heart shines through in so many ways!