Diane Griffin
2020 Servant's Heart Award Winner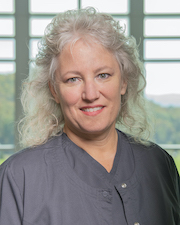 In her role as intensive care unit (ICU) shift leader at Johnston Memorial Hospital, Diane Griffin, RN, has many opportunities to show her servant's heart, both to patients and team members.
One example of how she impacts both came when a team member's son was in serious condition at Johnston Memorial's ICU. "Diane took incredible care of our son. She would talk to him, exercise his extremities, fluff his pillow, lotion his extremities, just anything she could do to help keep him from deconditioning. Not only was she compassionate and caring for our son, but to my husband and me as well. She would pray for us and even hug our son crying when she left her shift. Even on her day off she would call and check on him to see how he was doing. I will forever remember the compassion she showed to our family and how she treated my son during this difficult time."
Diane volunteers on committees at work, helps fundraise for the Team Member Giving Campaign, supports team members going through rough times and also volunteers with her husband for several nonprofits and support organizations.
"She truly shows compassion in everything she does, putting others before herself," her nomination stated.