Barbara Allen
2020 Servant's Heart Award Winner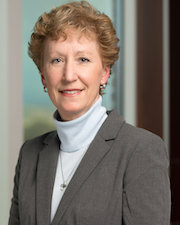 Barbara Allen has given her time for 14 years as member of the Ballad Health board of directors, making tremendous contributions toward the creation and guidance of Ballad Health. She also fills her time with service to others in ways both large and small. In the Servant's Heart nomination submission by a team member who has worked with her, it stated: "Barbara is like the Energizer Bunny. She keeps serving and serving and serving."
Barbara served as a board member for the legacy Mountain States Health Alliance and then Ballad Health, helping guide the merger of Mountain States and legacy Wellmont to form Ballad Health. She has been chairman of the board, served on numerous subcommittees and continues to serve in a non-board capacity on several committees. Her influence will forever be felt at Ballad Health.
She is also on the board of directors for Integrated Solutions Health Network, the population health service arm of Ballad Health that operates Ballad Health's successful AnewCare Medicare Accountable Care Organization.  In her nomination, it was written that "Barbara never serves in name only; she puts her heart and soul in everything she does."
But Barbara's servant's heart extends beyond her board of directors work. She assists friends and family members, finding time to be there for them despite her busy work schedule. Barbara has taught the toddler Sunday School class at First Christian Church for many years and served, including chairing, on the Appalachian Christian Service Camp Board.
She began her volunteer career by serving on the founding board of the Ronald McDonald House in the Johnson City Medical Center campus, spearheaded the fundraising campaign that built the facility. Her nominator stated: "She repeatedly performs acts of kindness on a weekly, if not daily, basis to someone, somewhere needing assistance. This is evidenced in so many ways with examples she would not want identified." It is this call to serve, even behind the scenes, that makes Barbara such a deserving a Servant's Heart Award recipient!