Amy Mauk
2020 Servant's Heart Award Winner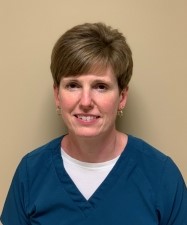 In the award nomination submission for Amy, a team member referred to her as one of those special people "who unknowingly impacts us in many positive ways. … She is one of the most caring, positive, energetic people you will ever meet."
Amy's leadership of the diagnostic imaging team is marked by her burning desire to support her team members and keep up morale. She is known for coordinating birthday and holiday celebrations, collecting donations to help team members facing extraordinary family situations, picking up extra shifts as needed and even for working a double shift in order to staff the department, then coming in the next day with a crockpot of broccoli soup for the staff. There have been countless times Amy has worked night shift, then worked her normal shift the next day – and she's as energetic as ever.
Earlier this summer, the fiancé of one a team member was paralyzed from a car accident. That team member was not only taking care of the fiancé but also of her disabled father. Amy immediately sprang into action, taking up donations to send to help with finances, meals and gas for her travels back and forth to the hospital.
Not surprisingly, Amy also volunteers at David Crockett High School and at her church. Her life is marked by serving others – truly the heart of a servant.