Ballad Ventures
Investing in innovation.
Transforming healthcare.

Ballad Ventures is a venture capital platform focused on investing in innovative ideas which transform healthcare experiences, costs, access and outcomes. As the venture capital arm of Ballad Health, the wholly-owned subsidiary seeks opportunities that drive the mission, vision and strategic initiatives of the organization.
How we invest
We invest financially and strategically in early-stage healthcare companies that help us solve the problems facing our health system and the industry.*
We invest in opportunities focused on addressing challenges in the following areas:
Care delivery – Improvements in clinical experiences, extensions of clinical reach or workforce challenges
Patient experience – Creating more personalized care and access
Clinical improvements and delivery – Improving quality outcomes for the system and industry
Cost of care – Placing an emphasis on value-based arrangements
Care innovation – Developing opportunities to create new service lines or improved growth
Emphasis will be given to opportunities that address care anywhere, consumerism and the workforce. Medical devices and diagnostics will be limited to opportunities where Ballad Ventures has the unique ability to leverage its investment through a direct partnership with Ballad Health.
Investment criteria
Stage: Angel, Seed, and Series A
Check size: $500,000 to $1.5M
Strategic value: Creates substantial, measurable strategic value to Ballad Health with broad applicability across the health care industry.
Other: Ballad Ventures chooses to invest alongside strategic partners and generally does not lead rounds. Companies must be ready to partner with Ballad Health through strategic contracts (or line of sight to a contract), research and/or development opportunities, or clinical trials.
Please note: Exceptions to investment criteria can be made due to strategic value to the organization and communities. Examples include later-stage opportunities or investments greater than $1.5M. Ballad Ventures seeks to pursue investments that align with the strategic priorities of Ballad Health and will not consider opportunities that do not align.
The Ballad Ventures team
Bo Wilkes – President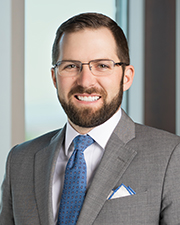 Bo Wilkes is a healthcare strategist with an entrepreneurial spirit. For almost 15 years, he has worked in a variety of roles within a traditional healthcare system – from strategy to operations to governance. Now, Bo is tasked with creating a culture of innovation and transformation through the Ballad Health Innovation Center. Simultaneously, he acts as an enabler of strategic value creation through Ballad Ventures.
Bo leads a diverse team within the Innovation Center consisting of lean thinkers, project managers and entrepreneurs to develop and drive an innovative culture for a 21-hospital system serving rural Appalachia in Northeast Tennessee and Southwest Virginia. The intent of the Innovation Center is to assess potentially disruptive technologies and clinical advancements while intentionally leveraging innovative opportunities to transform the way we deliver care. In conjunction with the Innovation Center, Bo leads Ballad Ventures.
Prior to serving in his current capacity, Bo served as Chief of Staff for the Executive Chair and President of Ballad Health. Within that role, he was responsible for providing a variety of management and professional support for the executive leadership with an emphasis on planning, performance management, operational efficiency and effectiveness, and organizational development, as well as direct oversight of the enterprise's governance structure. Prior roles within the organization include serving as administrator of Johnson City Medical Center and Indian Path Community Hospital, as well as leading growth within the organization's strategic planning department.
Entrepreneurial in nature, Bo has also served as an interim CEO for a pelvic floor therapy start-up operating throughout the Eastern Seaboard. The work has led him to develop an understanding of venture capital and landed him an opportunity as Executive-in-Residence with LRVHealth (Boston, Mass.). Additional past experiences include production manager responsibilities for ESPN with a base of operations throughout North America.
Bo holds a master's degree in Public Health from East Tennessee State University and a bachelor's degree in Health Sciences from Clemson University. Certificates include the Professional Innovators Program from the University of Michigan's College of Engineering.
John Perez – Managing Director
As the new managing director of Ballad Ventures, Perez's primary responsibilities will consist of operational leadership and management oversight of the organization's venture capital efforts. He will manage the overall investment process, from conception to execution, for Ballad Ventures and will also lead due diligence efforts on potential investment opportunities and monitor industry dynamics and the finances and operations of portfolio companies.
John will work alongside the Ballad Health Innovation Center, which interfaces with Ballad Health's research programs and Ballad Ventures to create opportunities to capitalize on new programs that have potential in the national healthcare marketplace, to link venture efforts to drive innovation within Ballad Health and leverage intellectual capital to improve the delivery of healthcare for patients and clinicians.
John brings more than eight years of experience in digital health to Ballad Ventures, with a focus on strategic venture capital investments, innovation and financial consulting. Most recently, he served as director at Abundant Venture Innovation Accelerator (AVIA) Network. He designed, launched and led the network, a group of more than a dozen health systems, including Ballad Health, with more than $750 million in collective assets under management dedicated to investing in promising digital solutions. In addition to his responsibilities in that role, John also served as director of client engagement at AVIA, where he managed executive client relations across many of AVIA's health system network members.
John earned his bachelor's degree in biomedical engineering from Vanderbilt University. Residing in Salt Lake City, Perez will provide a west coast presence for Ballad Ventures, while also enjoying the outdoors through skiing, hiking and mountain biking.
Learn more about Ballad Ventures

Contact the Ballad Ventures Team
---
*Ballad Ventures will not invest in pharmaceutical, biopharma or drug discovery.