Dr. Doug Springer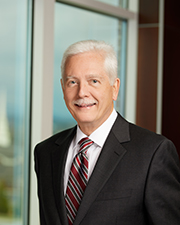 Dr. Doug Springer has been a medical leader in East Tennessee for 40 years and was a member of Wellmont Health's board of directors leading up to and during the merger with Mountain States Health Alliance. He recently retired after 38 years as a gastroenterologist with Gastroenterology Associates, which has locations in Big Stone Gap and Abingdon, Virginia, and Kingsport and Bristol, Tennessee.
In his role on the Ballad Health board, Dr. Springer will serve as chairman of the Community Benefit/Population Health Committee.  He began his service to Holston Valley Medical Center and Indian Path Community Hospital early in his career by serving on many committees, holding leadership positions as chairman of medicine and president of the medical staff at Holston Valley. He also helped start the hospital's Physicians Leadership Council.
Dr. Springer has been a member of the Tennessee Medical Association, American College of Gastroenterology, and the American Society for Gastrointestinal Endoscopy since 1978. He served the TMA as chairman of membership for 10 years and received the Distinguished Service Award in 2011. He served on the board of trustees of TMA from 2013-2015 and was president in 2014-2015.
A native of Canada, he obtained his undergraduate degree at the University of Toronto and earned his medical degree from the University of Calgary, where he also completed a residency in internal medicine. He is board-certified in internal medicine and gastroenterology and also attained fellowship status in internal medicine and gastroenterology at Queens University in Canada.