Lynn Krutak
Chief Financial Officer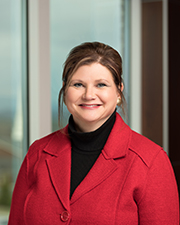 Lynn Krutak is the chief financial officer of Ballad Health. Prior to her role at Ballad Health, Krutak served as the executive vice president and chief financial officer for Mountain States Health Alliance, with responsibility for the direction and oversight of the health system's financial operations.
She joined Mountain States in 1998 when Johnson City Medical Center purchased six facilities from Columbia/HCA. At the time of the acquisition, she was chief financial officer at Johnson City Specialty Hospital. Before her role as chief financial officer for the health system, Krutak was serving as both the corporate CFO for Mountain States and CFO for the system's wholly owned for-profit subsidiary, Blue Ridge Medical Management. She also served in numerous financial roles at the hospital facilities.
Before her career in healthcare, Krutak served in a lead finance position for a top 50 privately held company in Atlanta.
Krutak graduated with honors from the University of Tennessee, Knoxville where she received a bachelor's degree in business administration with a concentration in accounting. She earned a master's degree in business administration from East Tennessee State University. Krutak is a current member of various health care and finance organizations and recognized as a certified healthcare finance professional by the Healthcare Financial Management Association.